Fuchs Silkolene Motorcycle Lubricants
FUCHS Silkolene is a market leading range of motorcycle lubricants available in over 50 countries including Australia and New Zealand. The comprehensive range has been developed with over 30 years of R&D expertise to provide the ultimate performance, power and protection for every rider. Developed using the latest lubricant technologies, the FUCHS Silkolene range is the motorcycle oil of choice by leading professional race teams and everyday riders alike.
XP Technology
The Silkolene range by FUCHS is powered by the latest innovative oil technology - XP Technology. As the market leader, FUCHS makes continuous improvements to its motorcycle oil range utilising premium base oils and new additive technology to meet the evolving needs in the motorcycle industry. During the development process of XP technology, rigorous testing of different formulations was conducted and compared with competitor motorcycle lubricants in the same type of engines. The results of this research led to the launch of the new and improved FUCHS Silkolene range which offers riders 11% fuel savings, 18% lower oil consumption and 3% increased power.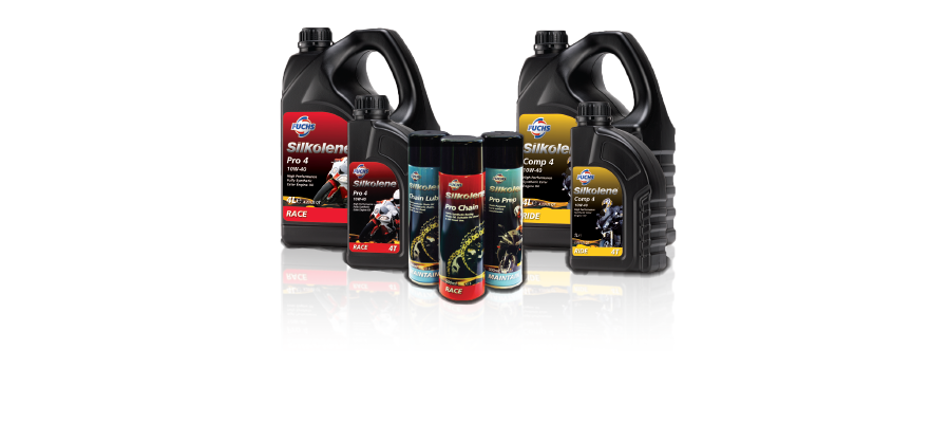 FUCHS Silkolene Motorcycle Engine Oils
The FUCHS Silkolene range of motorcycle lubricants offers 2-stroke and 4-stroke engine oils and Transmission Oils to suit all motorcycles. Perfect to use as a racing bike oil, these lubricants are colour-coded to provide clear distinction and help customers make easy and informed decisions when purchasing FUCHS Silkolene motorcycle oils.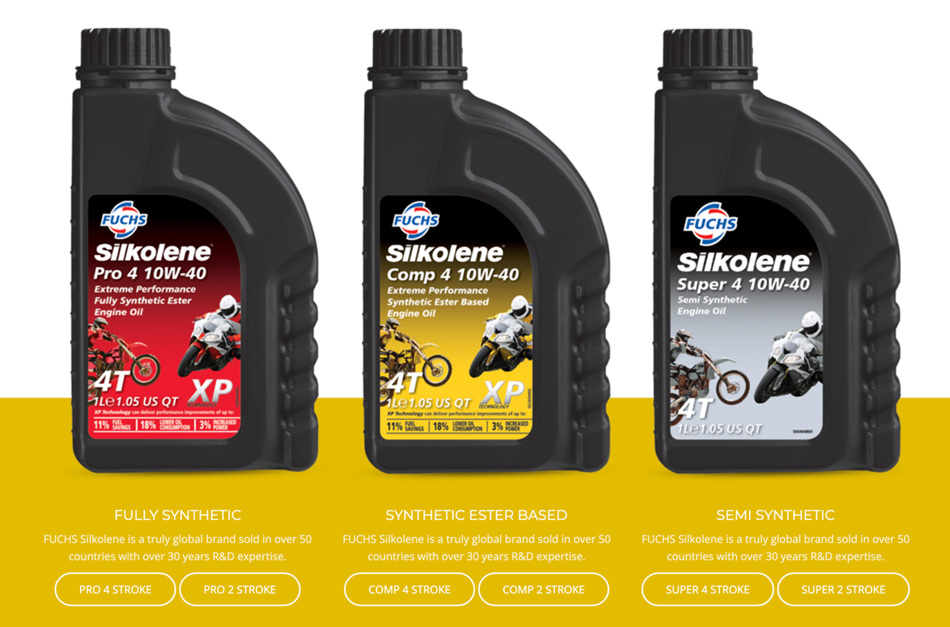 FUCHS Silkolene Super
FUCHS Silkolene Super is a semi-symthetic oil designed for high performance applications in 2 stroke and 4 stroke motorcycles.
4-Stroke Engine Oil
Super 4 – Available in 10W30, 10W40 and 20W50
2-Stroke Engine Oil
FUCHS Silkolene Comp
FUCHS Silkolene Comp is a Synthetic Ester Based oil which uses XP technology to deliver superior protection in high performance and competition applications.
4-Stroke Engine Oil
Comp 4 XP – Available in 10W30, 10W40, 15W50 and 20W50
V-Twin – Available in 20W50
Quad ATV – Available in 10W40
2-Stroke Engine Oil
FUCHS Silkolene Pro
FUCHS Silkolene Pro is a Fully Synthetic Ester Based engine oil designed to deliver ultimate protection in extreme applications including racing.  Silkolene Pro uses XP Technology to deliver improved fuel economy, reduced oil consumption and enhanced horsepower.
4-Stroke Engine Oil
Pro 4 XP – Available in 5W40, 10W30, 10W40, 10W50, 10W60 & 15W50
Quad ATV – Available in 5W40
2-Stroke Engine Oil
Pro 2
Pro KR2
Comp 2 Plus
Maintenance Oils & Lubricants
The FUCHS Silkolene range of maintenance oils and lubricants are available at all R&J Batteries stores and selected distributors across Australia and New Zealand. The following products from the Maintain range are available:
Coolants
Gear Oils
Brake & Clutch Fluid
Fork Oil
Chain Lube
Foam Filter Treatment
Fuel Additives
Want to know how to choose the right Motorcycle Oil?
Call or visit the team at R&J Batteries for more information on Silkolene Lubricants. Find the best oil for your racing bike, road or dirt bike, or your 'only ride on the weekends bike'. With branches all across Australia and over 7,000 stockists, there is sure to be a representative near you. Find your closest R&J Batteries branch today.