Deka Sports Power Batteries
The Deka Sports Power AGM Battery was designed for more than performance; it was designed for the enthusiast. Completely spill-proof and leakproof; frequent replacement and high maintenance are over!
The AGM technology increases power while improving rider and environmental safety. The key to this technology is the highly porous microfiber separators, which completely absorb and trap the electrolyte. Moulded top and side connection terminals provide versatility, increased strength and durability.
The Deka Sports Power AGM Battery provides the most advanced power and value in the industry and are made in the U.S.A.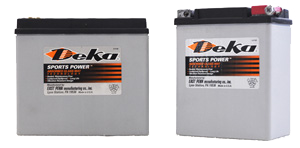 For more information on the Deka Battery range or to find which motorcycle battery is best for you and your bike, contact the experts at R&J Batteries on 1300 769 282 or send us a message.