REDMAX Accessories
Introducing the new REDMAX accessories range exclusive to R&J Batteries. R&J Batteries is a 100% Australian owned company who in addition to stocking world-class battery brands and lubricants, have introduced the REDMAX range of accessories. The includes battery terminal brushes, digital multimeters, diagnostic tools and solar power banks, with more products to be added as the brand grows.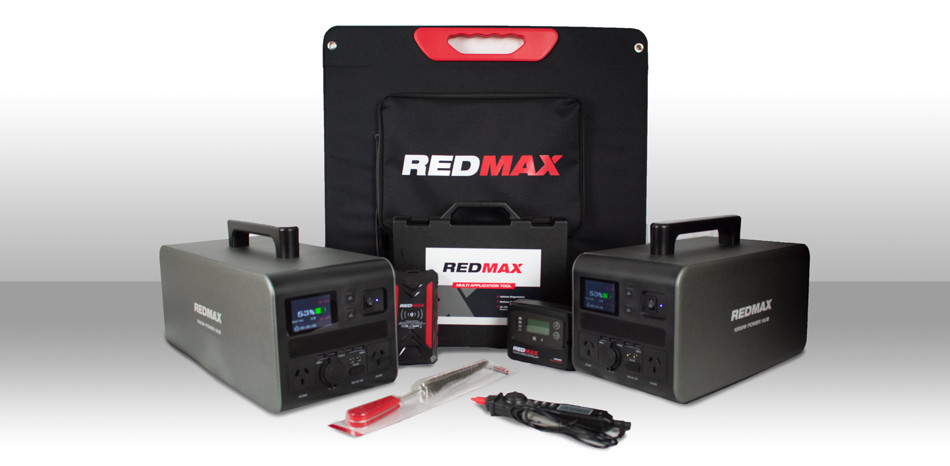 Exclusive Accessories Range
REDMAX accessories has been introduced to the R&J Batteries portfolio to synchronise all your battery accessories under one umbrella. In addition to stocking the best battery brands and lubricants, R&J Batteries want to provide customers with a full range of reliable power accessories to support any application. REDMAX accessories are designed help you reach the maximum service life of your battery and application.
The REDMAX range of accessories includes the following:
Each product in the Redmax accessories range has been carefully handpicked by the experienced Product team at R&J Batteries to meet the requirements of the Australian and New Zealand markets. The range consists of best-in-class products and accessories from all over the world. Head over to your local R&J Batteries branch to find accessories for your battery and application that meets quality ratings at affordable prices.
Redmax Products
The REDMAX range of accessories has your portable power covered with solar power banks and power hubs which are also supported by solar blankets, solar panels and solar charge controllers. Battery replacement and testing are also made easy with the REDMAX battery brush, multimeter and Multi Application Diagnostic tool.

REDMAX Portable Power Hub
A must have in every traveller's toolkit is the REDMAX Portable Power Hub. It is a portable AC and DC power supply containing a rechargeable lithium battery and a Battery Management System (BMS) which supplies safely stored energy as either 220VAC for mains powered devices or as DC voltage for USB and 12V devices. When it comes to charging, any 12V to 30V DC source can be used including a solar panel (up to 200W), a vehicle accessory socket or the supplied mains powered charger.
Adventure enthusiasts can rely on the REDMAX Portable Power Hub for powering devices when travelling, camping, boating, fishing or off-roading. The Power Hub is also useful in emergency, trade and commercial situations where mains power is not available.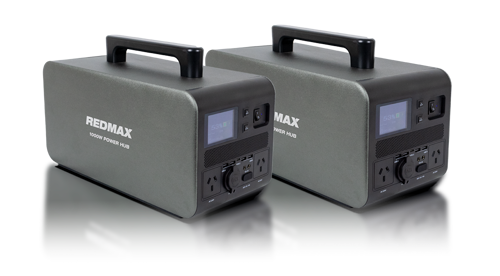 Product Features:
Durable extruded aluminium case
High output pure sine wave inverter
Ultra safe LiFePO4 battery chemistry
Flexible charging options
Portable power solution
Display showing battery level and power consumption in real time

REDMAX Multi Application Tool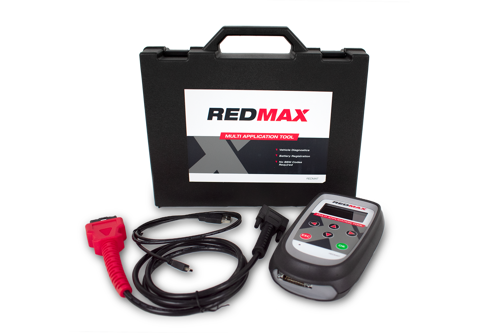 Your compact solution for vehicle diagnostics and battery registrations, the REDMAX Multi Application tool allows users to easily register a new battery within the Battery Management System (BMS) of applicable vehicles. The BMS actively manages the vehicle's battery to maximise battery performance and service life. When a new battery is replaced it needs to be registered with the BMS so it can establish a new baseline for the fresh battery. The REDMAX Multi Application tool is built to make this process easy, allowing users to clear all the learned values of the old battery from the BMS and register the new one. The tool can also display the current battery details which are stored within the BMS if required. Other features of Multi Application Tool are listed below.
Product Features:
Diesel Particulate Filter (DPF) regeneration
Electronic Park Brake apply & release
Service light resetRead and erase Diagnostic Trouble Codes (DTC's)
Display live vehicle data
Fault code identification
Reset EOLYS additive lights

REDMAX Solar Blanket
Harness the free energy from the sun when travelling with the REDMAX Solar Blanket. This 120 watt monocrystalline folding solar blanket can be used to charge batteries and power devices when camping, fishing or any other outdoor activity. Simply connect the solar blanket to a suitable solar charge controller, such as the REDMAX Solar Charge Controller, to enjoy an unlimited power supply for all your favourite devices. When not in use, simply fold the solar blanket with the panels facing inward to prevent damage and minimise the use of space. The REDMAX Solar Blanket can also be used to charge a REDMAX Power Hub by connecting it directly using the supplied cables.
Product Features:
Compact folding design for easy storage
High quality monocrystalline solar cells
Self supporting using integrated legs
MC4 connectors
5m extension cable

REDMAX Solar Panels
Capture, store and use clean energy from the sun to power your next adventure. The high efficiency monocrystalline REDMAX Solar Panels with 3.2 tempered glass on the front face and a durable anodized aluminium alloy frame are available in different sizes to suit varying power requirements for campers, caravans, RVs and motorhomes.
MT-105M-20W
MT-105M-55W
MT-105M-80W
MT-105M-100W
MT-105M-130W
MT-105M-150W

REDMAX Solar Charge Controller
Charge and maintain your battery with the REDMAX Solar Charge Controller. This high efficiency 12V PWM (Pulse Width Modulation) solar controller regulates incoming solar power to charge and maintain your battery and prevent overcharging. It has charge profiles for lead acid (Wet, Gel, AGM and Calcium), Lithium Iron Phosphate (LiFePO4) and Lithium Titanate (LTO) batteries making it ideal for off-road, 4x4, boating, camping, rural and off-grid applications. The handy clear digital LCD screen of the REDMAX Solar Charge Controller allows you to conveniently monitor the battery voltage, charging current and the total capacity delivered in real time.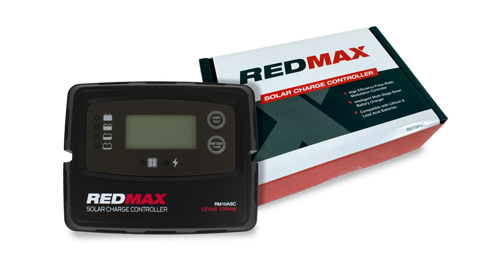 Product Features:
High efficiency PWM (Pulse Width Modulation) controller
Intelligent multistage charger
Compatible with Lithium and Lead Acid batteries
Can be permanently connected to a battery
Reverse polarity, short circuit, over temperature and over voltage protection

REDMAX Solar Power Bank
The REDMAX Solar Power Bank is specifically designed to power your outdoor adventure. Whether you require a solar power bank for the car or portable power for camping, climbing, exploring or biking, the REDMAX Solar Power Bank will give you power on the go.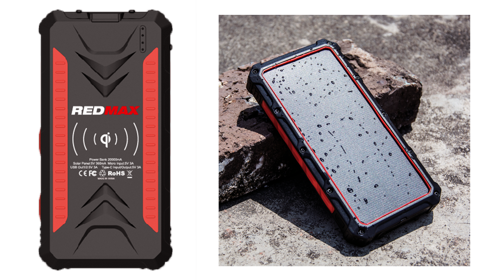 Product Features:
• In-built Solar Panel
For charging the device when USB power is not available
• Multi-functional LED light
The multi-function LED flashlight is a perfect outdoor companion. It has 3 lighting modes: torch, flash and SOS.
•Multiple Power Outputs
The REDMAX Solar Power Bank's ability to charge three devices simultaneously makes it one of the best solar power banks in the market. There are 2 x standard USB outputs and 1 USB-C output.
• High Capacity 20,000mAh battery
The REDMAX Solar Power Bank has a large 20,000mAh (20Ah) lithium battery which enables it to charge your mobile phone or other mobile device multiple times before requiring a recharge
• Wireless Charging
The REDMAX Solar Power Bank can wirelessly charge your compatible device using the Qi standard
• Safety
Integrated short circuit protection, over-discharge and over-charge protection.

REDMAX Battery Terminal Brush
Your vehicle's battery requires a low resistance connection between the posts and terminals so it can deliver maximum power to the starter motor. The REDMAX Battery Terminal Brush can be used to thoroughly clean the inside surface of the battery terminal to help keep battery terminals corrosion-free every time you change the battery.

The REDMAX battery terminal brush is manufactured to our specifications using stainless steel wire to resist corrosion. The taper of the brush matches the taper used in automotive battery terminals to ensure full contact and efficient cleaning every time. A large handle makes the battery cleaning brush easy to hold and use.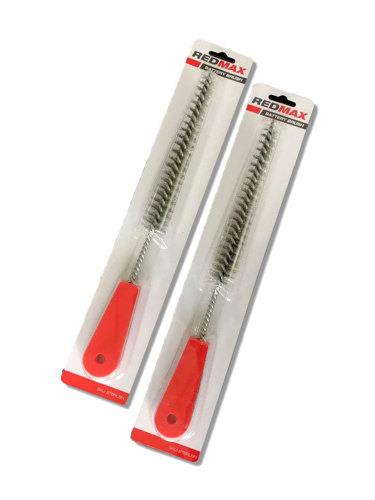 Product Features:
Stainless steel wire bristles
Taper design matches the battery terminal taper
Suits both standard (SAE) and small (JIS) battery terminals
Comfortable, easy to grip handle

REDMAX Multimeter
Leave out the guesswork by using the REDMAX Multimeter to accurately measure electrical values in batteries, components and circuits. This compact digital multimeter (pen-style) can measure voltage, current, capacitance, resistance, and more. The pen-style design makes it easier to use compared to conventional multimeters.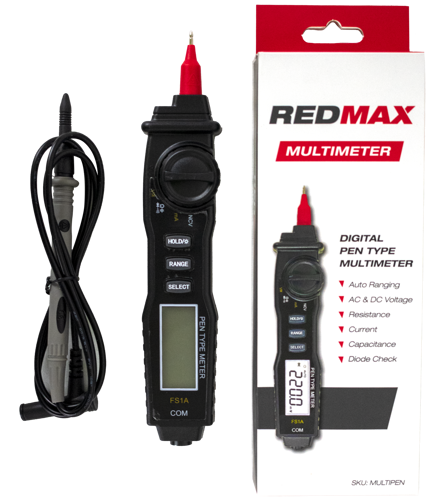 Product Features:
Auto ranging
AC / DC voltage Resistance
Current Capacitance
Diode check
Backlit screen
Torch Auto power off

REDMAX Portable Power Boss
The REDMAX Portable Power Boss is a pre-wired battery box that has been taken to the next level. The Power Boss not only allows you to easily connect your deep cycle battery to power your 12V accessories, it also has USB 3.0 and USB C ports for your smaller devices, along with two Anderson plugs for direct connection to caravans & appliances. The 150A Master Switch also allows you to shut down the system quickly for additional safety. The Power Boss is a great choice for travellers looking for convenience and reliability to take their power with them on the road, or off-track
Product Features:
Suits Group 27 & 31 size batteries
(up to 330mm long x 172mm wide x 230mm high)
150A Master Switch (protected)
Dual Port – USB 3.0 and USB C
2 x 50A Anderson Plugs
1 x 12V Accessory Power Socket
Digital Voltage Gauge
2 Year Warranty
Battery maintenance is made easy with the REDMAX range of accessories. Whether you are seeking a battery terminal brush, diagnostic tool, multimeter or a solar power bank, your local R&J Batteries branch has every accessory you need to keep your vehicle's battery in optimal condition. Get in touch with the battery experts today.