Exclusive to R&J Batteries, the ALLiON range of lithium batteries has been developed to deliver market leading performance and safety. ALLiON batteries' Lithium Iron Phosphate (LiFePO4) cells provide superior thermal and chemical stability compared to other lithium technologies. 
R&J Batteries Your Sole Supplier of ALLiON Lithium Batteries
Our extensive product portfolio consisting of world-class brands now has a new addition – ALLiON lithium batteries. At R&J Batteries sourcing and supplying the very best in battery technology for our customers in Australia and New Zealand has always been our number one priority. Now, with ALLiON batteries, we can provide a high-performing and safe lithium technology solution.
ALLiON Lithium Iron Phosphate (LiFePO4) batteries are safer and more stable compared to other lithium technologies as their cells provide superior thermal and chemical stability.  Their wide operating temperature range also ensures ALLiON batteries deliver reliable power every time, making it the perfect adventuring companion for RVs, motorhomes and caravans.

 LiFePO4 Technology
ALLiON batteries are designed with advanced technologies to provide your application with the best, most reliable power. They have an integrated Battery Management System (BMS) which manages the battery status and actively protects the battery if the voltage, current or temperature are outside of the designed operating parameters. ALLiON also takes battery technology to the next level by equipping selected batteries in the range with Bluetooth technology so you can monitor your battery's status via an App on your smart device.
The rated cycle life of ALLiON lithium batteries is significantly greater than AGM batteries. They will deliver between 2000 and 4000 cycles depending on the Depth of Discharge (DoD), compared to an AGM battery which is rated at 300 to 700 cycles for the same DoD.  This superior cycle life lowers the cost of ownership over the battery lifetime and also reduces the number of battery replacements.
The high charge acceptance of LiFePO₄ technology means that a fully depleted battery can be recharged in less than 3 hours which means less time spent waiting for the battery to charge and more time for your adventure.
Lightweight (~60% lighter than lead acid)
Onboard Battery Management System
Excellent cycle life (2000 to 4000 cycles)
Safe & stable LiFePO4 technology
Fast recharge with overcharge protection
Bluetooth status monitoring (on selected models)
Features and Benefits 
ALLiON lithium batteries come with a wide range of features and benefits designed to take your adventure experience to the next level 
Lightweight
ALLiON batteries' high energy density delivers around 60% weight reduction compared to equivalent AGM lead acid batteries.  The lower weight means safer manual handling and a lower overall weight of your energy storage system.
Safe & Stable LiFePO4 Technology
LiFePO4 technology is well regarded for its thermal and chemical stability.  You can rest assured knowing that ALLiON batteries are safe and durable, fully capable of delivering many years of reliable operation. Unlike lead acid batteries which need external ventilation to prevent explosive gases accumulating, LiFePO4 does not vent any gas during operation. ALLiON batteries can also be safely mounted on their side and installed in compact spaces without having to worry about venting.  LiFePO4 technology has high thermal stability which means, unlike most other lithium based batteries, it is highly resistant to thermal runaway. 

Partial State of Charge (PSoC)
Lead acid batteries are happiest when they are fully charged (100% SoC).  Operating at PSoC increases the rate of sulphation which directly reduces battery performance and cycle life.  Sulphation is not an issue for LiFePO4 technology so performance and cycle life is not affected when operating at a PSoC.  This means ALLiON batteries will still deliver all of their benefits in applications where they are being charged by variable energy sources like wind and solar.
Bluetooth Status Monitoring (on selected models)
Prevent unexpected surprises on the road by checking the health of your battery on your smart device via Bluetooth technology
Excellent Cycle Life (2000 to 4000 cycles)
ALLiON batteries are rated for 2000 to 4000 cycles depending on the Depth of Discharge (DoD).  This means even with deep discharging, an ALLiON battery will deliver 2000 cycles whereas a deeply discharged lead acid battery equivalent will deliver around 300 cycles.  This huge increase in cycle life means less battery replacements, reducing the overall cost of ownership. LiFePO4 technology also allows you to access all of the battery's capacity, effectively giving you a larger battery.
Fast Recharge with Overcharge Protection
ALLiON batteries' flat discharge curve delivers full power for an extended period of time. The higher charge acceptance of LiFePO4 technology means that even a deeply discharged battery can be charged safely & efficiently in less than 3 hours.
Onboard Battery Management System
The Onboard Battery Management System within AlliON Batteries protects the battery if voltage, current or temperature vary outside the designed operating range.
ALLiON Smart Device App
Available on iPhone through the app store and Android through Google Play store, the ALLiON Battery App allows you to connect to your battery via Bluetooth and view battery status information including State of Charge, Capacity and runtime based on the current power loading. The App can connect to the battery remotely, without having to manually access or remove it.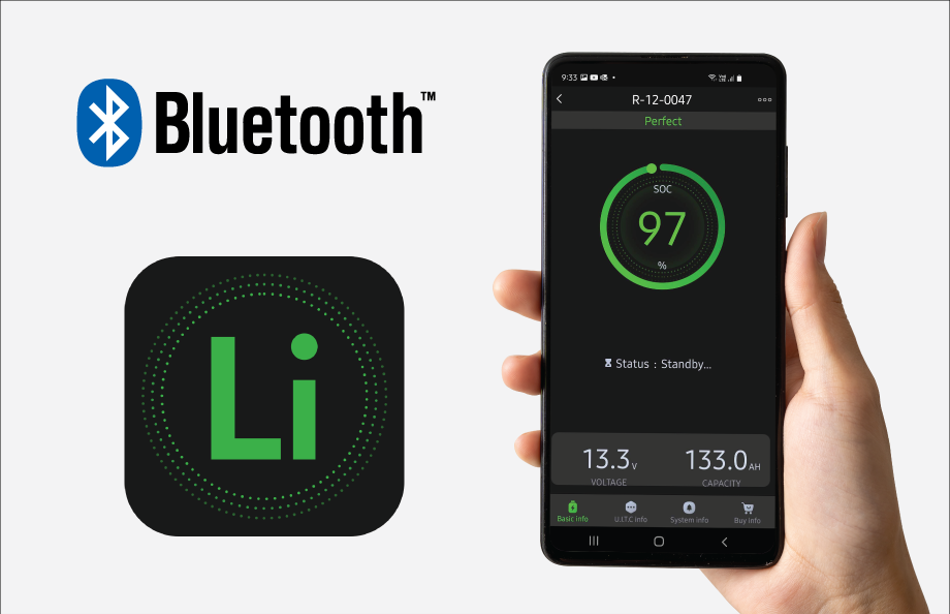 Battery Range
The range of ALLiON batteries, exclusively available from R&J Batteries and distributors, feature sizes to suit all makes and models of Recreational Vehicles (RVs), motorhomes and caravans. To determine your power requirements, speak to one of our battery experts at your cloest store or try our Deep Cycle Battery calculator. 
ALLiON Lithium Comparison Chart
| | | | | | | | |
| --- | --- | --- | --- | --- | --- | --- | --- |
|   |   |   |   |   |   |   |   |
| Part Number | Size | Voltage | Capacity (Ah) | Weight (kg) | L (mm) | W (mm) | H (mm) |
| | DC20 | 12 | 20 | 3.1 | 181 | 76 | 166 |
| | GRP.24 | 12 | 75 | 9.5 | 260 | 168 | 213 |
| | GRP.27 | 12 | 80 | 9.8 | 307 | 169 | 211 |
| | GRP.27 | 12 | 105 | 12.5 | 307 | 169 | 211 |
| | GRP.31 | 12 | 126 | 15 | 330 | 172 | 220 |
| | 4D | 12 | 205 | 26 | 505 | 173 | 255 |
| | 8D | 12 | 300 | 38 | 520 | 268 | 223 |
| | Slim FT | 12 | 105 | 13 | 553 | 110 | 239 |
ALLiON GC2 Battery & Monitor
Stay powered round after round with the high performing AL4830-GC2 lithium (LiFePO4) battery. This 48V Lithium Iron Phosphate (LiFePO4) battery has a capacity of 30 Amp Hours (Ah) and is a lightweight, high cycle replacement for golf carts, commercial turf equipment and floor scrubbers. The ALLiON GC2 has been custom designed and tested by the R&J Batteries technical team to provide long lasting and reliable power. The safe and reliable Integrated Battery Management System (BMS) is a key feature that sets this battery apart and even small details like a dust cap over the power switch has been accounted for.
The ALLiON Battery Monitor is also available which, when connected to your CAN enabled ALLiON Batteries, can show you the real-time state of charge, voltage and current flow.
Features & Benefits
Fast recharging
More usable capacity than lead acid batteries
Up to 6,000 cycles
IP67 rated case
Integrated Battery Management System
CAN Ports for remote monitoring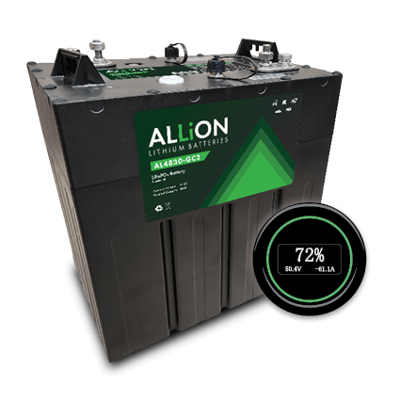 Like to know more about ALLiON Lithium Batteries?
If you would like to know more about ALLiON LiFePo ₄ Lithium Batteries and how it could enhance your caravan, camper or motorhome's power, get in touch with the battery experts at R&J Batteries. We have branches across Australia and New Zealand and 8,000+ stockists, there is sure to be a battery representative near you. Trade and Wholesale enquiries welcome. Find your closest store or get in touch today.