Battery Recycling Policy
R & J Batteries Pty Ltd Battery Recycling Policy/Statement
R & J Batteries Pty Ltd supports and advocates the safe, sustainable, environmentally aware and legal collection and recycling of Used Lead Acid Batteries (ULAB).
We support the principal of product stewardship: that the responsibility for environmental management of ULAB products including their recovery at end of life, is shared by organisations at every stage of the ULAB product life cycle.
All R & J Batteries Pty Ltd stores and warehouses are equipped and able to collect, store and arrange transportation of ULAB irrespective of the size or quantities.
Those R & J Batteries Pty Ltd stores that are affiliated with our sister company, Vic Scrap Batteries Pty Ltd may also be able to pay for ULAB collections subject to current prices, location, quantities and current stock levels. Please check with your local store for more details.
Where possible, R & J Batteries Pty Ltd endeavours to build in ULAB recycling options into all our major supply contracts and agreements.
We support only those recycling organisations that have the capability to recycle on shore in a sustainable and environmentally sensitive manner. We DO NOT advocate or support black market collection and illegal off shore exporting operations.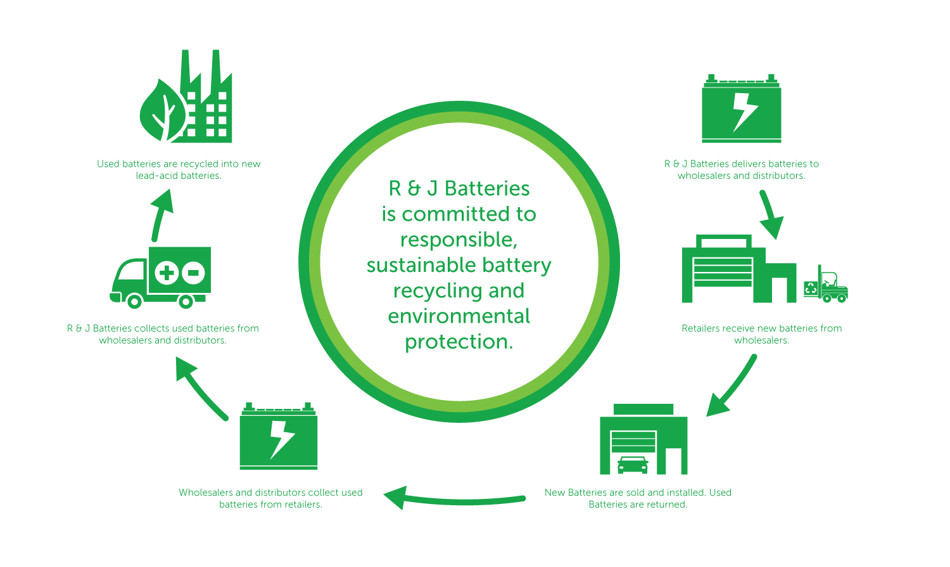 B-Cycle Accredited
All R&J Batteries branches in Australia are accredited B-cycle drop off points. What is B-cycle? B-cycle is Australia's official battery recycling Scheme developed for responsible battery lifecycle from purchase to disposal by giving dead batteries a new lease of life. The Scheme is run by the Battery Stewardship Council (BSC) and is supported by the Government and authorised by the Australian Competition and Consumer Commission (ACCC).
Approximately 90% of used batteries in Australia end up in landfill. It leaks toxic materials into our environment and affects animals, plants and humans. The B-cycle Scheme aims to reuse the valuable materials in batteries thus reducing mining activities and conserving the environment for future generations.

R&J Batteries has been a proactive recycler of lead batteries for many years. We take our environmental responsibilities seriously and by extending our recycling capabilities to include all other battery types, we are offering customers a complete end of life battery recycling service.
The Scheme is open to both households and businesses. Drop-off used batteries at a R&J Batteries branch near you or any other authorised B-cycle drop-off point.