RUN STRONGER LONGER
The revolutionary Odyssey battery is designed to provide enormous cranking power and deep cycle reserve power, unlike other batteries Odyssey Batteries do both. By taking advantage of flat plates made of 99.99% pure lead – not lead alloy – they are able to make them thin and fit more plates inside. More battery plates mean more plate surface area, which means more power – twice as much as conventional alternatives. Where can you go wrong?
Odyssey batteries are capable of providing engine cranking pulses in excess of 2250 amps for 5 seconds, which is double if not triple that of equally sized conventional alternatives, even at very low temperatures. Best of all, Odyssey batteries can be stored for up to 2 years and still be returned to full power. This, combined with their high performance, makes them perfect for Australia's extreme conditions in a wide range of applications. Whether you need them for automotive, marine, commercial or powersports.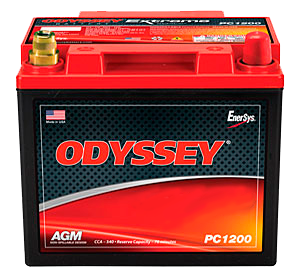 R&J Batteries, the home of Odyssey batteries in Australia and New Zealand
It's age old wisdom that when you need a job done right, you should entrust it to the experts. While many of the manufacturing partners at R&J Batteries are globally-recognised industry leaders, offering a vast range of products, we also value the innovation and exceptional quality which can come from more focused and highly specialised companies. The Odyssey battery offers incredible power for their size and is one of the rare breeds of batteries that delivers both exceptional cranking power and true deep-cycling capability. Their unique pure-lead AGM performance advantage and proven long-life design reflects the massive investment made in their development. R&J Batteries is a preferred distributor of Odyssey batteries within Australia, with the full range available from our company-owned stores and through our Australia wide distributor network.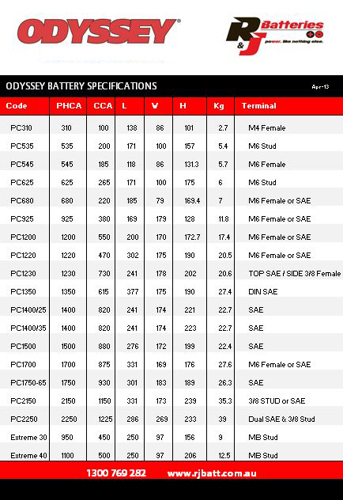 Get One-of-a-Kind Performance From an Odyssey Battery
The design limitations of conventional lead-acid batteries generally mean choosing either a starting battery or a deep cycle battery for your application. Starting batteries deliver high cranking power for short periods. Deep-cycle batteries deliver sustained power for longer and can endure multiple discharge-recharge cycles, but generally have much lower cranking (CCA) output making them less than ideal for engine-starting. Conventional Dual-Purpose starting/cycling batteries generally deliver somewhat compromised performance in both areas to attain a degree of durability overall.
Odyssey certainly broke the mould when creating their innovative and totally-new 'extreme' battery design. Their unique 99.99% pure-lead AGM batteries maximise plate surface area providing outstanding performance for both starting and deep-cycle applications. Finally, a true dual-purpose battery without compromise – they can deliver up to 2250 pulse-cranking amps for starting large-capacity marine engines and are also capable of handling up to 400 deep-discharge / recharge cycles for safe, reliable power in both recreational and commercial marine installations.
Get an Odyssey Battery From R&J Batteries Today
For a battery like the Odyssey to be capable of delivering this powerful 'no-compromise' dual-purpose functionality, it has to be built to extreme standards. Thanks to its high-precision AGM design, this range is rated for 3-10 years of service life, depending on the application. The sealed and pressurised Odyssey casing is designed to resist vibration, corrosion, sparks and leakage. It's also tough enough for R&J Batteries to recommend it for use in a wide variety of cars, 4X4 vehicles, heavy duty commercial vehicles, motorcycles and modified vehicles. What's more, the pure-lead design of these AGM batteries allows them to retain more usable power after sitting dormant in storage. Experienced and knowledgeable operators choose Odyssey for superior all-round battery performance, no matter what the application.
Need an Odyssey battery? Visit one of our local branches across Australia and our experienced experts will be happy to help you. Alternatively, call us on 1300 769 282 today.