Predator Batteries
Produced in a state of the art manufacturing facility in South Korea, Predator batteries are completely maintenance-free and represent outstanding value for money. Established more than 30 years ago our Korean manufacturer has worked closely with R & J Batteries to develop a large range of advanced and reliable batteries.
Predator batteries are produced in accordance with ISO9001, ISO14001 and TS16949. In addition the factory has the most stringent Quality Assurance process. We do not random-sample or batch test during production runs. Instead every single battery is tested for performance, resistance, leakage and capacity output prior to leaving the production line.
Predator SMF Predator AGM Predator Motorcycle Predator GC batteries
Predator SMF Batteries
Comprehensive range of Sealed Maintenance-Free automotive batteries including select range of premium Silver-Calcium Marine, Full-Frame Deep-Cycle and DIN specification for European vehicles.
Predator SMF Batteries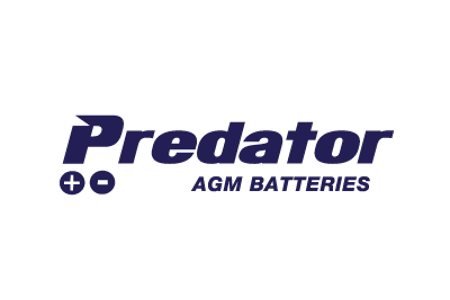 Predator AGM Batteries
Full range of Deep-Cycle and General-Purpose AGM batteries for all standby power and cyclic applications, including range of latest "nano-silica" technology, providing up to 50% longer cycle life than traditional AGM deep-cycle batteries.
Predator AGM Batteries