Motobatt – The Preferred Batteries for Motorcycles
Motobatt Motorcycle Batteries Use the Latest Technology to Provide the Motorcycle Enthusiast With a Hassle Free Ride.
Motobatt covers 200 part numbers with just 36 batteries, this includes size to suit all popular Motorbike, Jet ski, and PWC applications. Find the right battery for your application in Motobatt's AGM or Pro lithium ranges.
To overcome high vibration, high starting and additional high-powered accessory loads, Motobatt has introduced an advanced inner 'Power Balanced' design. If a battery is cranking harder than required to start your bike, you will not receive any additional benefits when it comes to capacity, regardless of claims made by different manufacturers. There is always a sacrifice when something is gained in battery design, and since the physical size of a battery is restricted to its application and casing, the more cranking power (increased number of thinner plates), the less Amp Hour capacity you will receive. The solution is to achieve a balance between the AH and CCA's to efficiently power your thirsty accessories.
R&J Batteries' range of Motobatt batteries have achieved this balance and we challenge you to put it to the test!
Motobatt application guide Motobatt specifications Motobatt warranty
Mototbatt AGM Batteries 
Motobatt Absorbent Glass Matt (AGM) Batteries are superior by design, having been used in demanding sports applications for many years. The sealed, glass mat design enables the battery to last longer and deliver reliable power every time. Some of the other features of Motobatts' motorcycle batteries include: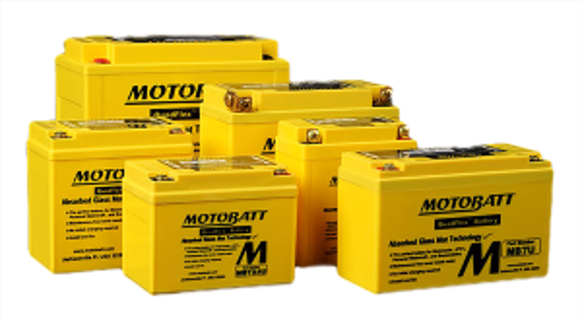 Patented Quadflex multi fit terminals

Absorbed Glass Mat technology

 – Ensures greater protection against vibration and gives longer lifecycle

Fully sealed

 – Can be mounted in any position

No initial charging – Install and go

Maintenance free

 

– No messy acid to worry about

20% more cold cranking amps

Easy accessory connection with multi terminals

Can be used in Motorbikes, Scooters, boats, jet skis and personal watercrafts

6 and 12-volt applications
Motobatt Pro Lithium
Motobatt Pro Lithium batteries are around 3 x lighter than conventional lead acid batteries, yet they produce even greater power and performance. This additional power translates into the ability to provide strong starting currents that are required for reliable, repeated starts at a wider range of temperatures than lead acid batteries.
Motobatt P SERIES
Motobatt batteries feature the dynamic cell balancing circuit (CBC) technology for superior starting power. These batteries can be recharged* when flat (less than 10v) to allow them to last longer and provide more power to your motorbike.
*Aggressive and repeat discharging may affect capacity and rechargeability.
Motobatt HP SERIES
Pro Lithium HP Batteries feature both a Protection Circuit Board (PCB) and Cell Balancing Circuit (CBC) which provides safer and superior battery performance with extended life. More on the HP series…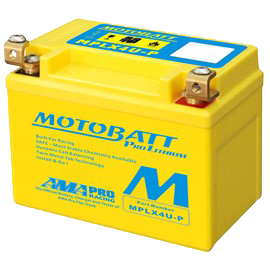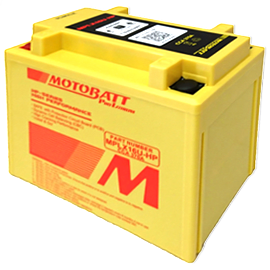 "Motobatt Pro Lithium range covers 92 Conventional Batteries with just 9 models!"
Motobatt Pro Lithium batteries have a very different chemistry to standard lead acid batteries and require specific care and maintenance. When recharging, always ensure to use a dedicated lithium battery charger. Warranty is voided if another type of charger is used. Recommended Charger: MBZCHPDCFB – Motobatt Fat Boy Charger.
Learn More About Motobatt Motorbike Batteries Today
If you have any uncertainties about Motobatt motorcycle and powersport batteries, our expert team can help identify the best power solution for your recreational applications. For more information on how R&J Batteries can help you find the right battery, please don't hesitate to get in touch. At R&J Batteries, we go above and beyond to ensure that you receive the right battery for your needs. Contact one of our branches across Australia today.