R&J Batteries – the Number-One Supplier of OPTIMA Batteries in Australia
The OPTIMA range features a series of colour-coded high-performance AGM batteries that deliver pure power in the form of application-specific batteries. The RED, YELLOW and BLUE top batteries cater for Automotive, Deep cycle and Marine applications respectively.
Each colour is structurally designed to provide the application with the most power for the longest period of time. The unique casing design of each specific battery enhances the state-of-the-art Spiralcell Technology®.
Spiralcell Technology® allows for more tightly compressed cells within the battery, giving it superior vibration resistance and extending the battery's life. Each model is 99.99% pure lead and features solid cast inter-cell connections for increased durability and maximum plate height.
All these features allow the battery to live up to twice as long as traditional batteries.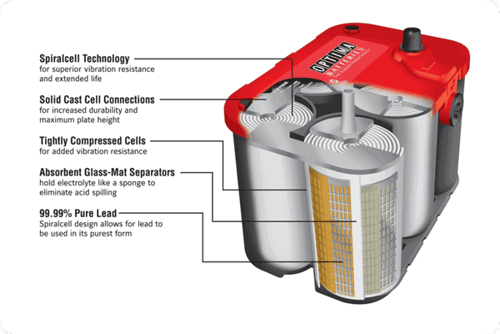 REDTOP OPTIMA® Car Battery
A Starting Battery With Performance Power
The OPTIMA Red Top® high-performance AGM battery is the ultimate starting battery, it is designed to deliver the strongest five-second burst of ignition power for a reliable start-up every time. The Redtop® will outperform and outlast traditional batteries in demanding cranking/starting applications.
With unparalleled high-power delivery and extreme resistance to the most common causes of battery failure, the Redtop® is ideal for trucks, SUVs, hot rods, street cars and other applications that require a powerful starting battery.
With its patented Spiralcell Technology®, OPTIMA batteries offer 15 times more vibration resistance and up to twice the life of ordinary batteries. OPTIMA Batteries® are like no other battery found in today's market.
OPTIMA's unique Spiralcell® design offers buyers the greatest technology in providing a strong and clean power source that far surpasses any of today's flooded lead-acid batteries. With an OPTIMA under your car bonnet, you can count on a longer lasting battery.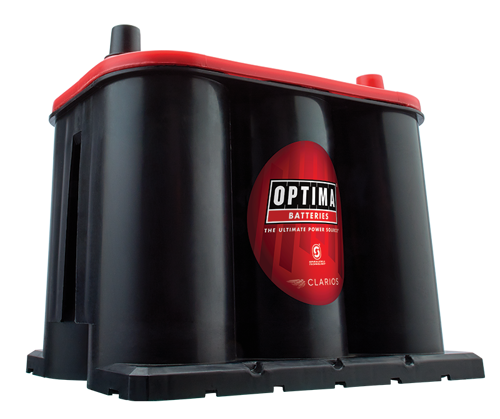 Features
Strongest starting burst
Up to 3X longer life
15 times more vibration-resistant
Virtually spill proof
Mountable in virtually any position
Maintenance-free
Faster recharging
Optimal starting power
Spiralcell Technology® for superior vibration resistance and extended life
Solid Cast Cell Connections for increased durability and maximum plate height
Absorbent Glass-Mat Separators hold electrolyte like a sponge to eliminate acid spilling
Tightly Compressed Cells for added vibration resistance
99.99% Pure Lead Spiralcell design allows for lead to be used in its purest form
OPTIMA YELLOW TOP® Deep Cycle Battery
Deep Cycle and Starting Batteries for Extreme Applications
Buy OPTIMA® YELLOWTOP® AGM batteries if you are one for the extremes. If your vehicle is designed to take the abuse of 4wd off-roading or to crank out decibels, you will need more from your battery. OPTIMA YELLOWTOP® batteries have both deep-cycle and starting capabilities with patented Spiralcell Technology® that will fulfil those needs.
The deep cycle characteristics of this technology coupled with its extreme resistance to vibration provides performance vehicles with the repetitive power they need in a unique spill-proof package.
If your vehicle has numerous accessories like running lights, winches, hydraulics, or a high-performance stereo/AV system it demands more from its battery. An OPTIMA® deep cycle battery provides the extra performance and cycling capability that your vehicle demands.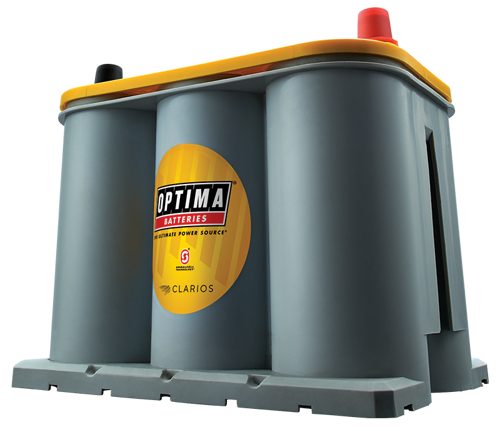 Features
Deep-cycle and cranking power
Up to 3X longer life
15 times more vibration-resistant
Virtually spillproof
Mountable in virtually any position
Maintenance-free
Faster recharging
Optimal starting power
300+ discharge/recharge cycles
BLUETOP OPTIMA® Marine Battery
Some Days, Endurance Is More Important Than Luck.
An OPTIMA® Blue Top® AGM battery will keep you on the water longer. Its patented Spiralcell Technology® means more running time, faster recharge, and up to twice the life of traditional marine and RV batteries. Plus, it is spill-proof, can be stored longer, and has 15 times the vibration resistance, not to mention superior heat resistance.
If your boat has lots of accessories like lights, fish finders, a trolling motor, radar, high performance stereo, bilge pumps or chart plotters it demands more from its battery. OPTIMA® marine batteries provide the cycling ability your boat demands while maintaining the cranking power it needs. When you buy an OPTIMA Blue Top marine battery, you don't need luck! Look for its blue top and six-pack shape at your local battery dealer.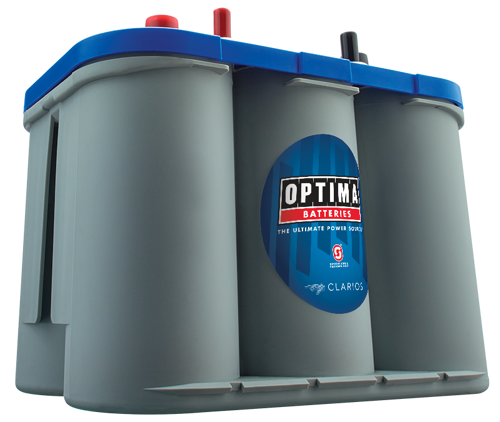 Features
Both dual-purpose and starting applications available
Up to 3x more recharges than other marine batteries
More than 15 times the vibration resistance
Spill-proof
Mountable in virtually any position
Maintenance-free
Optimal starting power (dual purpose and starting applications available)
Works well as a boat battery or RV battery
The OPTIMA Battery Suppliers Offering Specialised Products to Suit Your Needs
The original and the best; OPTIMA's pioneering Spiralcell Technology® has helped shape the current and future of the high-performance battery market. As the first manufacturer to develop maintenance-free sealed lead-acid batteries in the 1970s and originators of the efficient AGM design now used by many luxury car-makers worldwide. OPTIMA's proven range was a natural choice for R&J Batteries and we are proud to be endorsed by OPTIMA as a preferred nation-wide distributor of their cutting-edge automotive, marine and deep cycle batteries.
Every OPTIMA Battery Design Excels its Dedicated Application
Their colour-coded casing compliments OPTIMA's signature "Six-Pack" shaped design, with each different colour signifying the battery's intended usage. OPTIMA REDTOP® batteries feature tightly-packed cylindrical cells with solid cast connectors and AGM separators for supreme vibration protection. The highly efficient twin-plate design delivers phenomenal cranking power, making the REDTOP® ideal for serious engine-starting applications including in high-performance street cars, as a hot rod battery and with diesel engines for commercial or industrial use.
The YELLOW TOP® OPTIMA Deep Cycle battery features thicker, spiral-wound high-density plates for durable, sustained power delivery lasting hundreds of cycles without losing capacity. The OPTIMA YELLOW TOP®s unique design delivers an added bonus in the form of superior high-rate cranking power, something not normally present in conventional deep cycle batteries due to the limitations of the flat-plate design. As a premium supplier in the industry, R&J Batteries recommends YELLOW TOP® batteries for not only deep cycle power but also starting applications demanding utmost reliability including emergency services vehicles, road transport and agricultural machinery.
An obvious colour choice for marine applications, the OPTIMA BLUE TOP® is available as a marine starting battery or marine dual-purpose starting & cycling battery. Like all OPTIMA AGM technology, the BLUE TOP® is not only extremely robust but is also very safe by design, being highly resistant to vibration, short-circuit, leakage, corrosion and explosion – more good reasons to demand OPTIMA batteries for ultimate peace-of-mind. The BLUE TOP® range of OPTIMA batteries are a natural choice for a host of different applications including camper trailers and RVs, four-wheel drive winching and accessory power, portable fridges, dual-battery installations and of course boats of all sizes.