R&J Batteries Dubbo
R&J Batteries Dubbo branch was established in 2011 in New South Wales, Australia. If you are in search of the best batteries for your application, look no further. The product range at R&J Batteries Dubbo includes car batteries, camping and caravan batteries, marine batteries, boat batteries, deep cycle batteries, motorcycle and scooter batteries, golf cart batteries, solar batteries, commercial batteries and industrial batteries. In addition to batteries, lubricants and accessories, the branch offers free battery testing and expert advice. Visit the battery experts at R&J Batteries Dubbo today.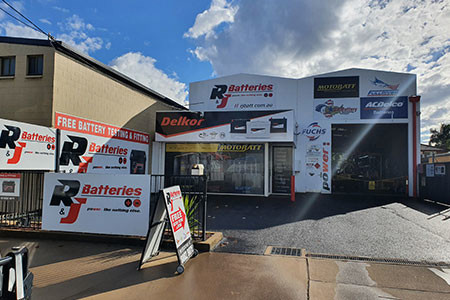 Store hours
Monday

8:00 am - 5:00 pm

Tuesday

8:00 am - 5:00 pm

Wednesday

8:00 am - 5:00 pm

Thursday

8:00 am - 5:00 pm

Friday

8:00 am - 5:00 pm

Saturday

8:00 am - 12:00 pm

Sunday

Closed
R&J Batteries Dubbo
Our company goal is to provide you with the best battery and expert advice. To do so, our staff have extensive knowledge of all types of batteries, including car batteries, marine and deep-cycle batteries for almost any application including cars, trucks, 4x4s, caravans, boats and more. At R&J Batteries Dubbo and our team of battery experts will find the best battery solution for your vehicle! Visit our Dubbo store for a free battery test, fit or replacement today!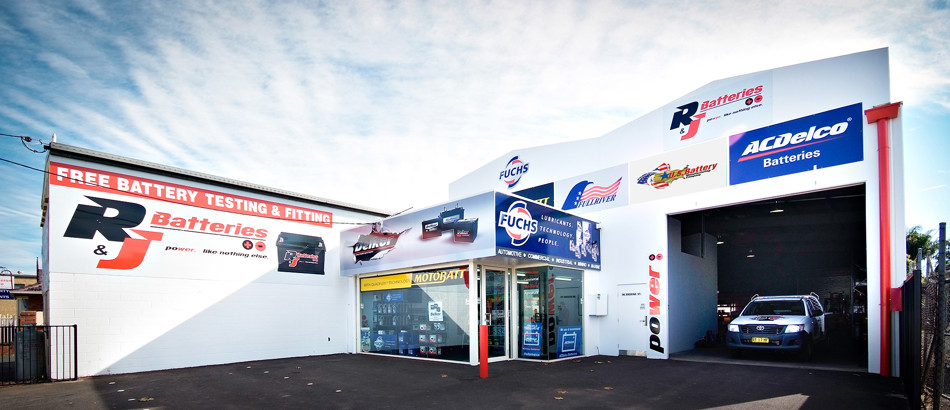 Everything You Should Know About Deep Cycle and Car Batteries Before You Buy in Dubbo
How Do Car Batteries Work?
Without power generated by batteries, your car will not start. You probably already know that, but you may not fully understand your car battery. What you might not know is how your battery works, why it may fail, or how long it should last.
Your car battery provides a short burst of electrical energy that starts your car. When you put your key into an ignition or press the start button in newer vehicles, the battery will convert chemical energy into electrical energy.
That electrical energy is delivered to the vehicle's starter that then cranks the engine. Power from the battery is also supplied to a vehicle's spark plugs to ignite the fuel and air mixture in the engine's combustion cylinders. In contrast, the design of deep cycle batteries allows them to be regularly discharge using most of their capacity, rather than supplying shorter bursts.
Once the car is running, the alternator then takes over and supplies most of the electrical current to all of the systems requiring electricity within the vehicle. With the growth of new technologies inside vehicles – air conditioning, satellite navigation systems, and digital music players – more power is required from car batteries, causing greater strain on their capacity. To decide between deep cycle batteries and other types, consult the battery experts at R&J Batteries.
How Long Should My Car Battery Last?
The answer to that question is not an easy one, as it depends upon a variety of factors. Brand, manufacturer and type (deep cycle, Valve-Regulated, or another alternative) will inherently affect your battery's longevity. If you do not follow the recommendation of the professionals at R&J Batteries and properly maintain your battery, it will not last as long as it could.
Newer vehicles are now filled with all sorts of computers and electronic gadgets that require more power from your car battery. In these more modern cars, an important factor concerning the use of your battery is how often you lock your vehicle.
These new gadgets and accessories in your car will continue to draw power from the car battery until they go to sleep. Only by locking the car will it completely go to sleep. It is good practice to hit the lock button every time you park your car. This helps to increase the life of car batteries whether they are cheap or not.
Why You Should Buy Car Batteries From R&J Batteries Dubbo
When you buy from R&J Batteries, you get the benefit of a wide selection of batteries, including automotive and deep cycle batteries, as well as the extensive knowledge of our professional staff. With over 20 years of operation in the industry, we know car batteries. We continue to provide outstanding products at reasonable prices all with a belief in building solid customer relationships.
You can visit any one of our locations or call us on 1300 769 282, and you will receive service that is second to none. For all of your car battery needs in Dubbo, visit R&J Batteries today.