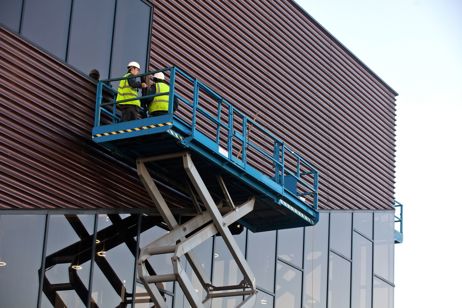 Industrial Batteries
R&J Batteries source top performing Industrial deep cycle batteries. Our extensive range will provide solutions to nearly all applications including aerial work platforms, material handling, floor sweepers/scrubbers and various other niche industrial equipment.
R&J Batteries is Australia and New Zealand's fastest growing battery supplier. We source reliable batteries from around the world to give our customers the best price and service, our dedicated Industrial team is well equipped to ensure the best product is used in every application.  
The deep cycle range includes Flooded Lead Acid, AGM, GEL and lithium battery technology.
U.S. Battery
100% made in the U.S.A, these Deep Cycle Batteries are built for maximum discharge and cycle life. U.S. Battery use patented technology for their cell-plate design, making them the most efficient in the industry. Available in a variety sizes and volts, U.S. Battery's lead acid batteries are adept at powering many heavy-duty industrial applications. These include scissor lifts and floor machines while also extending to roadsigns, electric vehicles, UPS systems and more.
Find more
Predator Industrial Batteries
The Predator range has grown to include both flooded and AGM options for Industrial applications. Power your day-to-day machinery with reliable batteries from the GC2 to GC12 flooded lead acid options and up to your ED63900 AGM sizes. These batteries have been built for steadfast performance, providing longer service life and less down time for the machinery. They are suitable for floor cleaners, pallet trucks, aerial work platforms and more. Ask the team at R&J Batteries to determine the best fit for your power requirements.
Find more
Find a full range of Industrial Batteries at any of R&J Batteries' company owned branches around Australia and New Zealand. The team of battery suppliers pride themselves on offering the best service to both trade and retail customers while offering competitive prices.
For more information use our branch locater to find your closest store or call us on 1300 769 282
Industrial Battery FAQs
Industrial batteries refer to deep cycle batteries intended for use in industrial equipment like aerial work platforms and floor cleaning machines. Industrial batteries consist of lead acid (e.g. flooded, gel or AGM) or lithium chemistries.
Industrial batteries are designed to suit specific applications where deep cycling is required. A regular automotive battery is designed for starting a vehicle which does not include deep cycling.
An industrial battery is much better at providing the long lasting, repeated cycling power needed for equipment used in industrial and commercial applications.
The difference between industrial batteries and normal batteries is in the way they are constructed. When we think of a normal battery, it is most likely an automotive starting battery used in passenger cars. These are intended to provide short bursts of power that crank the vehicle's engine. To provide this, automotive batteries are built with a higher number of plates in each cell to increase surface area for the chemical reaction to take place.
Industrial deep cycle batteries, however, are built to provide lower power levels over a longer period. The cells in these batteries contain less plates than starting batteries but the plates are much thicker to allow them to reliably deliver power for extended periods of time. Using a starting battery in an industrial application is not advised as it would rapidly deteriorate from the repeated discharging and charging (cycling).
For use in Industrial equipment like scissor lifts and floor scrubbers, R&J Batteries supply and recommend U.S. Battery, RELiON, Delkor, Predator and Fullriver brands of batteries.  The ReLiON range of lithium LiFePO4 batteries will last significantly longer than a lead acid battery with up to 10 times the cycle life.  Lithium batteries present lower operating costs over the life of your equipment and are best suitable for when the user is intending to keep the equipment for more than a couple of years. Deep cycle lead acid batteries like U.S. Battery and Delkor are also suitable as they will provide power for several years with their replacements being more affordable than lithium batteries. Fullriver AGM Deep Cycle batteries present an in-between solution with technology that is designed to last longer than lead acid and is valve regulated for even safer operation.
Yes, industrial batteries are rechargeable. Unlike starting batteries in cars, industrial batteries are not recharged by the vehicle's alternator and require external charging. Ensuring you have the correct charger for your battery type will help extend your battery's life and charge it more efficiently. The battery experts at R&J Batteries can help you find the best charger for your equipment.