R&J Batteries Bairnsdale
R&J Batteries Bairnsdale are your local battery experts. The branch was established in 2020 when R&J Batteries purchased local battery company, Wilsons Batteries in Eastern Victoria, Australia.
The team sell a diverse range of batteries, accessories, lubricants and cleaning products to meet any need. Find your car batteries along with deep cycle batteries for camping and caravans as well as marine or boat batteries. You will also see motorcycle and scooter batteries, golf cart batteries, solar batteries, commercial batteries and industrial batteries at R&J Batteries Bairnsdale. Visit the team for free battery testing and expert advice.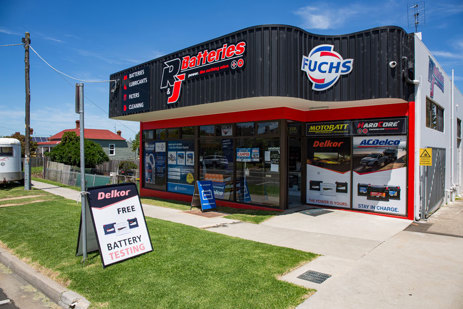 Store hours
Monday

8:00 am - 5:00pm

Tuesday

8:00 am - 5:00pm

Wednesday

8:00 am - 5:00pm

Thursday

8:00 am - 5:00pm

Friday

8:00 am - 5:00pm

Saturday

8:00 am - 12:00 pm

Sunday

Closed
Additionally, the Bairnsdale branch not only just carries the standard Batteries, Lubricants and accessories as our other branches, they also offer a range of filters and cleaning products. See below a list of the available cleaning products:
Soap Boy Cleaning Products
Hand Wash & Sanitiser
Disinfectants
Dishwashing
Detergent
Air Fresheners
Degreaser
Truck Wash
Surface & Glass Cleaners
Other cleaning products
Paper Towels

Napkins

Laundry Powder

Dishwashing Powder

Floor Cleaner

Rinse Aid