You can depend on an ACDelco Batteries
ACDelco is a brand that needs no introduction in Australia and New Zealand. ACDelco has built a worldwide reputation as a premium source of experience, dependability, technology and performance. Since the early 1970s, ACDelco pioneered the use of lead-calcium battery plates. They are credited with creating the world's first mass-produced maintenance-free car battery.
Today, ACDelco continues to be at the forefront of battery innovation with new products. Their product range includes EFB and AGM batteries for ISS vehicles that are specifically designed to lower fuel consumption and vehicle emissions. The ACDelco product range is suitable for a large range of car makes and models, commercial and marine applications.
ACDelco Batteries have sizes to suit the below applications
Automotive  |  Commercial   |  Deep-Cycle  | Garden & lawn mower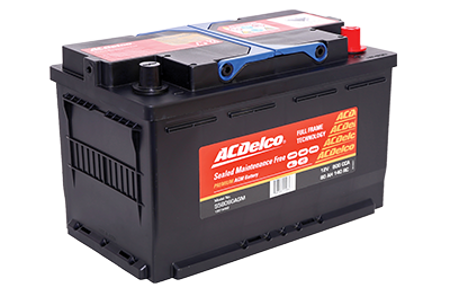 ACDelco AGM Batteries (ISS Compatible)
ACDelco AGM batteries are specifically designed to handle the high demands placed on starting batteries by advanced vehicle systems. Some features of ACDelco AGM batteries include:
High-Compression Absorbent Glass Mat Separators
Over double the cycle life compared to standard lead-acid batteries
Over double the charge-acceptance compared to standard lead-acid batteries
High cranking power even at low state-of-charge
Sealed maintenance-free – no leaks or spills
Designed to meet the strictest OEM replacement specifications
Highest resistance to vibration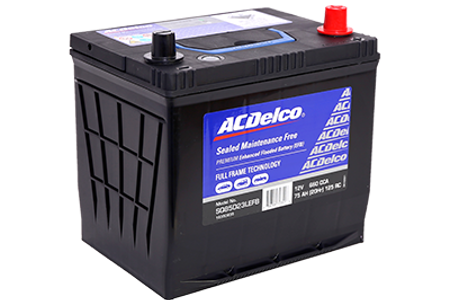 ACDelco EFB Batteries (ISS Compatible)
ACDelco EFB batteries are designed and manufactured to perform under the toughest conditions. They are evolved from the sealed maintenance-free range and are suitable for stop/ start systems without regenerative breaking. Some features of ACDelco EFB Batteries include:
Ultra-high density plate material for high corrosion resistance
Lead-Calcium plates with higher tin content
Higher CCAs even at partial state of charge
Higher Reserve Capacity (to power accessories)
Improved rapid charge acceptance and cyclic ability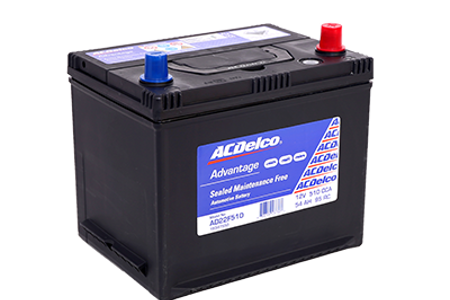 ACDelco Advantage Batteries
With durable, impact-resistance plastic casing, the ACDelco SMF (sealed maintenance free) battery design offers corrosion resistance terminals, integral gas separators and flame arrestor vents.. Some features of ACDelco Advantage Batteries include:
Overall terminal design minimises acid leaks,
Premium alloys and high-density paste to improve performance.
Both positive and negative grids are lead-calcium alloy, maximising corrosion resistance, and battery durability.
Envelope separator design helps eliminate shorting and corrosion.
Manufactured with dozens of quality control checks to provide ACDelco quality

ACDelco Commercial Batteries
ACDelco commercial batteries provide a combination of high CCAs and reserve power for reliable starting in an SMF casing. Commercial-grade plates made from lead-calcium-tin alloy combine with sealed labyrinth lids to ensure no maintenance or servicing is required for the life of the battery. ACDelco commercial batteries have been developed to withstand the most gruelling environments.
Some features of ACDelco Commercial Batteries include:
Totally maintenance-free
Commercial-grade plates
Special alloy (Pb-Ca-Sn) high-tin content
Improved corrosion resistance
Tough PE separators
Lock-bonded plate groups (anti-vibration)
Special plate grid supports (prevent shorting)

ACDelco Deep-Cycle & Marine Batteries
The ACDelco deep cycle and marine batteries range is designed and tested for use in the most demanding marine and recreational vehicle applications. By using expanded wrought lead calcium grids, they are far more durable and stronger than conventional cast type grids.
The M series is a dedicated cranking battery, which features high CCA performance and more vibration resistance than other standard automotive batteries. The HCM series incorporates thicker plate grids and over twice the active plate material of standard automotive batteries. They are equipped with dual positive and negative terminals for multiple accessory connections. All models are designed to provide both engine-starting power and cycling ability with the added safety and advantages of an SMF battery. Some features of ACDelco Deep Cycle and Marine Batteries include:
Calcium / Lead
Sealed maintenance-free
Polypropylene case
Heat sealed covers
Built-in flame arrestors
Wrought grid plates
Patented liquid gas separator
Built-in hydrometer
Extremely high quality
Very low self-discharge

ACDelco Garden & Lawn Mower Batteries
ACDelco high performance, maintenance-free lawn mower batteries and garden batteries offer numerous advantages over conventional batteries. They are designed to provide you with the best possible value through a longer battery life, better performance and hassle-free operation.
Lead Calcium wrought grids
Maintenance Free – fit and forget
Rugged and durable polypropylene case
Heat sealed gas to increase leak resistance
Spark & flame arrestors
Low self-discharge rate
Corrosion resistant
Built-in handle
Lug terminals to suit most mower and stationary engine fitments
ACDelco Stockist Program
Interested auto electrical workshops, battery resellers and parts distributors now have the opportunity to become an authorised battery stockist by joining R&J Batteries' ACDelco Battery Stockist Program. Distribute a world renowned brand with a strong heritage and backing by the automotive giant, General Motors.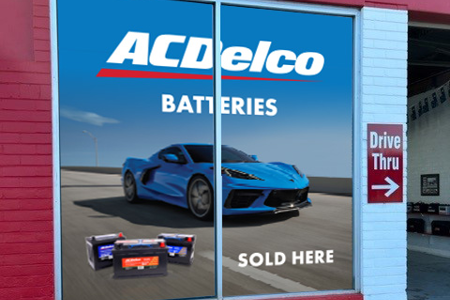 The program consists of different levels of support to suit distributors of various sizes and scales. Gain access to extensive marketing support, tools and resources to grow your business and establish your authority in your local community. Call us or send us a message to learn more about the ACDelco Battery Stockist Program.
Power Your Vehicle with an ACDelco Battery
ACDelco is a global leader with a strong heritage in the automotive replacement part industry. The product range offers sealed maintenance-free batteries to suit all applications including cars, trucks, marine applications, RVs and modern ISS vehicles. R&J Batteries has an extensive distribution network of authorised ACDelco stockists throughout Australia. To choose the right ACDelco battery for your application, contact your local R&J Batteries branch today on 1300 769 282.
FAQs
ACDelco is a market leader in the battery industry. The brand pioneered the use of lead-calcium battery places in the early 1970s thus creating the world's first mass-produced maintenance-free battery. Today, more than 50 years later, ACDelco is still at the forefront of battery innovation. ACDelco is committed to providing premium quality batteries at competitive prices.
The lifespan of any battery regardless of the brand depends on various factors such as usage, maintenance, vehicle type, driving habits and weather conditions to name a few. To help increase the life expectancy of your vehicle's battery, we encourage you to check out our blog filled with useful information from the battery experts at R&J Batteries.
ACDelco Batteries are available from R&J Batteries branches and stockists in VIC, SA, TAS, NT and NSW.
R&J Batteries is one of three authorised ACDelco battery distributors in Australia. Use our Branch Finder to locate your closest R&J Batteries. NOTE: R&J Batteries does not distribute ACDelco batteries in QLD or WA
All ACDelco batteries sold at R&J Batteries come with warranty. For more information about warranty coverage, period and exclusions, please see below: