Reliable Sports Power
The Predator range of motorcycle and powersports batteries is one of the most comprehensive ranges available in Australia.Made by one of the worlds leading motorcycle and AGM battery manufacturers, Predator Motorcycle & Powersport batteries offer the enthusiast a truly world class battery at a value for money price.
Our manufacturer has over 11,000 employees spread across 7 manufacturing plants throughout Asia. With more than 400 R&D staff they have the experience and research capabilities to ensure the Predator range of Motorcycle and Powersports batteries is the most comprehensive and suitable for today's Powersport applications.
PREDATOR MOTORCYCLE SPECIFICATIONS 
AGM Range
The Predator AGM Powersport batteries are constructed with lead calcium alloy and Absorbed Glass Mat technology to provide you with total maintenance-free operation.
No spills, no leaks, or water to check. This design will provide you with higher amp hour capacity, longer cycle-life and greater durability. The Absorbed Glass Mat (AGM) and Through-The-Wall (TTP) intercell connector technology delivers superior vibration resistance, even in the most extreme conditions.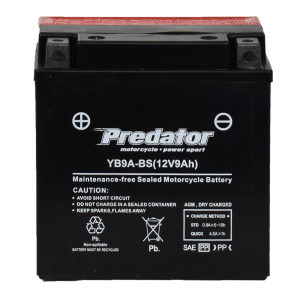 Features
Durable Polypropylene plastic case
Factory activated and acid pack options available
Higher starting performance
Excellent charge acceptance
High vibration resistance
Low self-discharge.
Electrolyte suspended in AGM separators – no spillage risk
Cast-On-Strap and TTP technology
Sulphation resistant technology.
Advanced calcium lead alloy technology, true maintenance-free design.
Conventional Range
The Predator conventional range of Powersports batteries are designed to meet and exceed many original OEM specifications for starting and amp hour capacities.
Heavy duty glass mat/PE composite separators improve vibration resistance and through-the-wall (TTP) intercell connectors minimize internal resistance for maximum power. Quick remove vent caps and transparent casing make checking electrolyte levels easy and no fuss.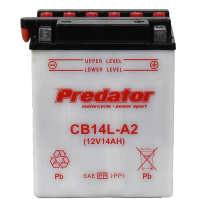 Features
High starting performance.
High-quality composite of Glass Fibre/PE separators
Advanced low antimony lead alloy to reduce maintenance requirements
High capacity and longer life.
Excellent charge acceptance and vibration resistance
TTP Through-The-Wall intercell technology.
Sulphation resistant technology.
Dry charged design, long storage time, can be used at any time you want.

X-Series
The Predator X-series is built for performance; with superior starting power, high reserve capacity and long-lasting life to give you more freedom out on the open road or the open sea.
The AGM design allows easy, stress-free installation with no chance for acid spills; making it the smarter choice for powering your prized equipment.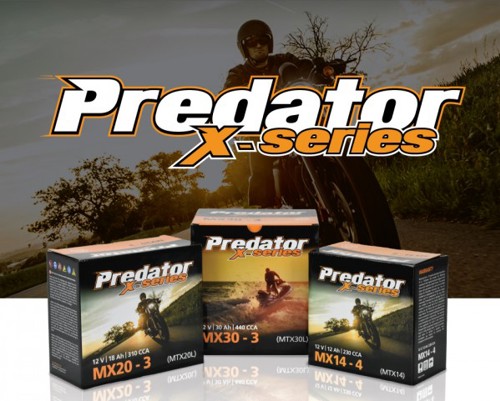 Features:
AGM technology with high compression separator
100% leak-proof and spill-proof to 360°C
Battery grid design structure increases continuous cranking time 10%-20% more than ordinary grids
Excellent starting power; starting the engine even at a low state of charge
Ideal for Jet-skis and American motorcycles
High charging acceptance for absorbing large surges of electrical energy generated via brake energy recuperation