Predator SMF Batteries
Our Korean manufacturer of Predator Sealed Maintenance Free (SMF) batteries has worked closely with R&J Batteries to develop one of the most advanced and reliable SMF Batteries available today. Completely maintenance-free with all the latest battery technology they represent outstanding value for money.

Predator has a full range of SMF batteries to suit all popular automotive, commercial and marine applications.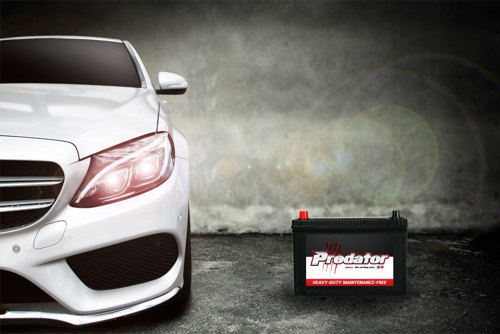 Unique Features
HIGHEST PURITY FINE-GRAIN LEAD
99.99% lead is used in a multi-stage cold rolling process to create plates with significantly stronger grain structure and higher resistance to grid corrosion.
LEAD-CALCIUM ALLOY
For both positive and negative plates, ensures minimal water loss, gassing and self-discharge rates to provide true maintenance-free operation and longer shelf-life.
EXPANDED GRID
Wrought-lead calcium expanded grids that provide; Strong corrosion resistance, Long shelf life, Maintenance free usage, Resistance to overcharge.
ENVELOPED SEPARATORS 
Low-resistance envelope separators prevent short-circuit, reduce internal resistance and increase CCAs.
POLYPROPYLENE CASE 
High strength case with built-in moulded handle.
MAGIC EYE HYDROMETER
To help gauge charge status of battery.
CENTRED CAST-ON STRAPS 
More direct power path improves current flow for increased power delivery. Stronger inter-cell joins.