Industry News
A Brief Automotive Battery History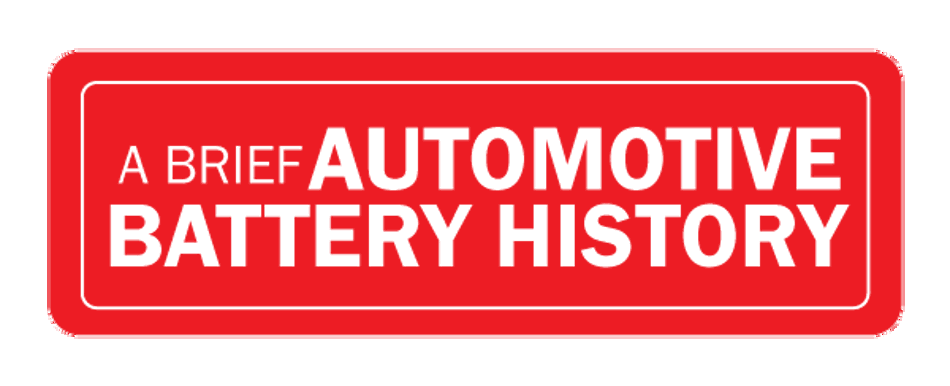 A Brief Automotive Battery History
250BC
THE BAGHDAD BATTERY
This battery, also sometimes known as the Parthian Battery was discovered in 1936 in Baghdad, Iraq.
1786
LUIGI GALVANI
In 1786 Luigi Galvani nearly invented the battery by making frogs legs jump.
1832-1839
ROBERT ANDERSON
Robert Anderson invents the electric car by building a crude battery-propelled carriage between 1832 and 1839
1859
LEAD ACID BATTERY
The lead-acid battery invented by Gaston Plante – this is the world's first rechargable battery and becomes a staple technology in cars for decades to come.
1800's
INVENTION OF THE CAR BATTERY THE VAST MAJORITY OF CAR BATTERIES ARE LEAD-ACID BATTERIES
HOW A CAR BATTERY WORKS
Lead-acid batteries fall into the SLI category. SLI stands for 'starting-lighting-ignition'- in other words, it not only powers the car's starter motor but the ignition and lighting systems too. SLI batteries are made up of six galvanic cells laid out in series. Each cell delivers 2.1 volts of electromotive force that, when combined, produce a 12 volt SLI battery. Enough to power a car!
Terminals
This is where energy leaves the galvanic cell array. They are made of lead – a good corrosion-resistant conductor.
Casing
The six galvanic cells are held in position by a non-reactive plastic composite case
Lead plate
The negative electrode reacts with sulphuric ions to generate hydrogen ions and more lead sulphate
Lead dioxide plate
This is the active material within the battery, reacting with the acid to produce ions and lead sulphate
Sulphuric Acid
Plates are submerged in acid which acts as the chemical catalyst and an electrolyte for ions
Each galvanic cell consists of a series of lead and lead dioxide plates which are submerged in an electrolyte solution – a mix of sulphuric acid (35%) and water (65%). This acid bath triggers a reaction with the lead dioxide plate (the positive electrode) which produces ions and lead sulphate. These sulphuric ions then react with the adjacent lead plates (the negative electrode) to produce hydrogen ions and lead sulphate. This chemical reaction, in turn, generates electrons that can flow out via conductive terminals as electricity to power essential functions.
The reaction is not permanent, with the lead sulphate reforming into lead dioxide and lead when the battery is recharged. Over time, the battery's efficiency will deplete, with most working optimally for about 2-3 years.
1911
INVENTION OF THE ELECTRIC HORN
Electric horns on cars invented – before this, motorists had to ring a bell or squeeze an air operated klaxon horn to tell pedestrians to get out of the way!
1912
INVENTION OF THE ELCTRIC STARTER
Previously motorists had to start their engines using a starting handle which had to be cranked by hand.
1949
KEY OPERATED IGNITION
Key operated ignition was invented – before this, motorists had to start a car by putting their left foot on the brake, their right heel on the accelerator and the toes of their right foot on the starter pedal.. press too hard and the engine is flooded.
1939
SEALED-BEAM HEADLIGHTS
The first sealed-beam headlights are invented – previous to this, motorists used devices such as the Prest-O-Lite tank, introduced in 1904. It was a steel cylinder containing pressurised gas that was fed to head-lamps and ignited by flame.
1971
FIRST SEALED CAR BATTERY
The first sealed car battery was invented – it didn't require any water and was corrosion free (unlike previous car batteries which needed to be recharged/replaced regularly). It was called the 'Freedom Battery' because of the minimum amount of fuss.
1980-1990's
IN CAR TECHNOLOGY
More demand is placed on car electrical systems with the gradual addition of 'gadgets' such as in-car entertainment systems, air conditioners, sat-navs, engine management systems and other computerised devices. Vehicle battery design improves, giving batteries far more power and capacity to cope with extra demands.
200-2010
START/STOP SYSTEMS
Start/Stop systems become more prevalent in cars. These systems stop the engine when the car is stationary in order to save fuel and cut down on pollution. Start/Stop vehicles require batteries with much greater outputs that can cope with the demands of restarting the engine far more often than normal while supplying all other loads. AGM/EFB batteries are developed for this purpose and are used mainly for these systems.
Made by R & J Batteries – www.rjbatt.com.au
For more information about batteries and battery technology, contact one of the industry experts at R & J Batteries – 1300 769 282 
Some of the original concept and content are from www.racshop.co.uk/