Industry News
A1 Batterypro – Celebrating 20 Years of Success
A Leading Battery Supplyer in Mackay and Townsville
In early August A1 Batterypro, a long-term friend of R&J Batteries, celebrated their 20th Anniversary. Our Managing Director Ray Robson and Queensland State Manager Alan Bianchi joined in the celebration in Mackay as everyone celebrated the success of James Heel and his team on reaching this milestone.
Family owned and independent, A1 Batterypro have owned and operated their leading battery supply stores in Mackay and Townsville for the last 20 years. R&J Batteries have been affiliated with James and the team since 2002 and we have long recognised A1 Batterypro as a critical part of our QLD distribution. We thank James and the team their ongoing support.
20 Years of A1 Batterypro
20 years ago, A1 Batterypro opened in Mackay with a team of only five employees. Over the next 20 years they grew and expanded to encompass two stores servicing the surrounding areas of Mackay and Townsville. Today, they are a team of 38 strong.
A large portion of growth can be attributed to the fully trained team knowing their products inside and out. A1 Battery's founding pillar is their renowned customer service provided before, during and after a purchase. The team firmly believe in getting the right product and advice first time, to save the customer time and money.
In 2002 A1 Batterypro expanded again, this time taking their customer service to the next level by adding an auto electrical department to their already thriving business. By combining qualified auto electricians and the best diagnostic equipment within the industry, A1 Batterypro can diagnose, problem solve and provide a conclusion for all electrical faults. They are passionate about providing high-quality, specialist auto electrical services at highly competitive prices.
As their reputation for outstanding customer service flourished, A1 Batterypro introduced a Clean Energy Council accredited solar department, to their already extensive range of services. Allowing the team to assess energy needs, answer questions and provide educated savings estimates, tailoring solutions to meet your needs.
A1 Batterypro firmly believe in ensuring all staff are trained to the highest industry standards, and with required accreditation, to offer the best knowledge and customer service to the greater Mackay & Townsville areas.  A1 Batterypro offer the best products and service to their customers.
View A1 Batterypro's Range Call A1batterypro
R&J Batteries and A1 Batterypro
In 2008 R&J Batteries expanded their operation into Queensland, opening our Stapylton Distribution Centre.
Our fundamental belief in building strong relationships based on mutual growth, coupled with the best service has always been our mission and our relationship with A1 Batterypro has been an integral part of our success in Queensland and we thank them for their continued support over our 11 year friendship!
Together we look forward to continued success and we are confident with the ongoing support of James Heels and the A1 Batterypro Team, the future for both R&J Batteries and A1 Batterypro looks bright.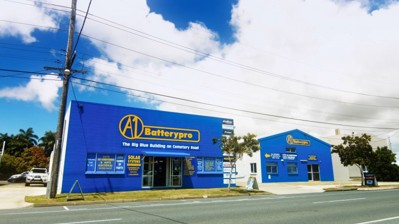 Business name: A1 Batterypro
Established year: 1999
Website: https://www.a1batterypro.com.au/
Locations: Mackay and Townsville
Vison statement: Batteries for everything
Product description: Battery Installation, fitting, testing, charging, delivery, road side assistance and professional advice Auto electrical.
Brands: Optima, Delkor, U.S. battery, Fullriver and Projecta
Number of employees: 38