Industry News
GARTNER READY TO LAUNCH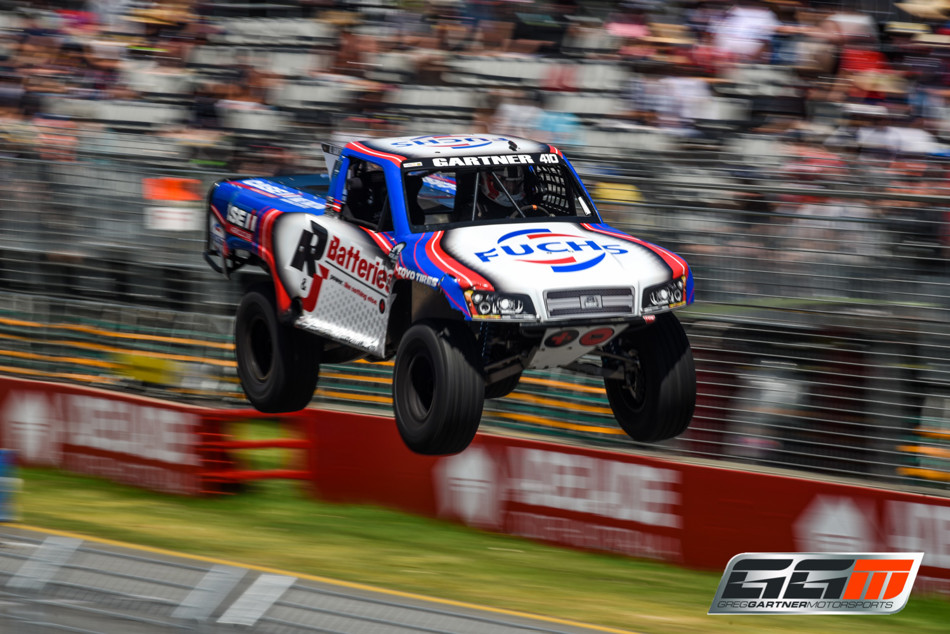 South Australian Off Road Racer, Greg Gartner will fire up the V8 under the hood of the #410 R&J Batteries Stadium Super Truck later this week for four days of high-flying action at the Clipsal 500 in Adelaide. A regular starter on the Australian Stadium Super Truck grid, Gartner will pick up where he left off on the Gold Coast, locking horns with an all-star cast that includes US Stars Robby Gordon and Sheldon Creed, local talents Paul Morris, Toby Price, Craig Dontas and Matt Mingay.
"Clipsal is our home event and always has an amazing atmosphere with over 250,000 spectators coming through the gates over the race weekend. There is no doubt they are all here to see the trucks fly and there is nothing better than hitting those ramps and three-wheeling it through the corners in front of a packed house."
"Stadium Super Trucks are a fantastic way to showcase what we all love about offroad motorsport. As soon as the ramps hit the tarmac and the trucks roll out on the circuit it is standing room only for the whole race, with the crowd grasping every vantage point to get a glimpse as we fly past."
The trucks hit the track on Thursday for practice at 11:55am then qualifying at 6:20pm, ahead of Race 1 on Friday at 12:45pm, Race 2 on Saturday at 1:30pm and the third and final race on Sunday at 2:15pm. Keep your eyes open for the brand new R&J Batteries Greg Gartner Motorsport livery, which returns to a blue theme for 2017.
"We have a pretty hectic racing schedule over the next couple of weeks. Starting on the tar at Clipsal, we will be threading the R&J Batteries Stadium Super Truck between the concrete walls of the Adelaide street circuit, before hitting the starter, punching the Albins into gear and letting the dirt fly with our Ford F-150 Trophy Truck at Griffith a fortnight later for the opening round of the ARB Australian Off Road Racing Series."
"The team would like to welcome CASE IH Agriculture and Hage Tractors on board for 2017, joining our valued partners, R&J Batteries, Fuchs, Toyo Tyres Australia, ATI Industrial, Craig Carrison Race Engines, JB Irrigation, CJM Attachments, Millicent Tyre Centre, CAPPA Motorbodies, Dirtcomp and Albins."
Follow Greg Gartner on Social Media
Facebook: https://www.facebook.com/GregGartnerMotorsports/