Industry News
Gartner Ready to Unleash the Beast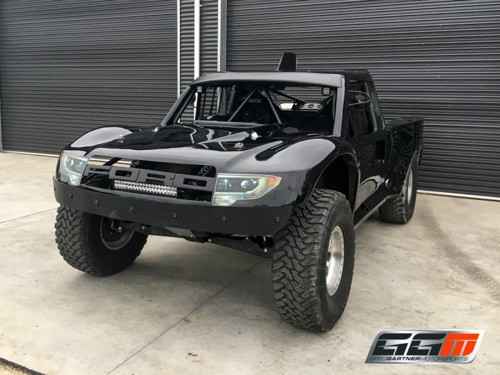 Narrowly missing a Tatts Finke Desert Race debut, Greg Gartner Motorsport will unleash the new Geiser Bros Trophy Truck for the first time in anger at the Waikerie Hotel ARB Riverland Enduro this weekend. In the works for the best part of two years, the new Geiser draws on many of the same ingredients that made the home grown truck a force to be reckoned with, including the distinctive Ford V8, Albins 6 Speed Sequential Transmission, Fox Shocks and Toyo Tires.
"The Aussie built CJM Ford Truck that has served us so well is tucked up in the shed at home and we're excited to finally be hitting the track in the new Geiser Bros truck. Rick Geiser and his team have done an amazing job putting it all together and it's finally time to fire it up on the track."
"Our hectic schedule both on and off the race track has meant testing has been limited. Jamie and I made a quick trip to the States in March and put 50 miles on it with Rick, but since it landed in Australia a few days before Finke we've only really given it a run around the paddock. Waikerie will be our first chance to settle in and get some proper time in the seat, so we're not expecting to set any records, but we'll see how we go."
While seat time in the new Geiser has been limited, Greg has recently had the pedal to the metal in the Aussie built #410 R&J Batteries TT with a 3rd in the Extreme 2wd Class and 13th outright at the Tatts Finke Desert Race with navigator Jamie Jennings.
"Finke was a rollercoaster ride for us this year. We got off to a great start, qualifying 5th in our old truck then kept out of trouble in the thick dust on the run South until we broke the wheel studs off on the rear. Fortunately we had some spares in the truck and despite some headaches with the jack and losing 50 minutes on the sideline we made it in to Finke in 32nd place. On Monday's return run we wound the Ford up and pushed through the dust as best we could to make it back to Alice 13th on the road, which was a pretty good result considering."
Greg then backed up Finke with another stint behind the wheel of the R&J Batteries Stadium Super Truck at Hidden Valley Raceway in Darwin, where a drive train failure ended his charge in the final race.
Since returning home from the north, attention has focused on preparing the new Geiser for battle. However the compressed time frame has meant the #410 Geiser will be more or less a cleanskin tonight when it cruises into scrutineering. "We're working on some new livery and expect there will be plenty of smiling faces when the wrap goes on shortly."
"We have a fantastic team behind us and I would like to thank R&J Batteries, Fuchs, Toyo Tyres Australia, CASE IH Agriculture, Hage Tractors, ATI Industrial, Geiser Bros, Craig Carrison Race Engines, JB Irrigation, CJM Attachments, Millicent Tyre Centre, CAPPA Motorbodies, Dirtcomp, Albins and all our crew for their continued support."
Follow Us On Social Media
Facebook: https://www.facebook.com/GregGartnerMotorsports/
Instagram: https://www.instagram.com/greggartnermotorsport/