Industry News
Higher Capacity Battery Requirements For European Tractors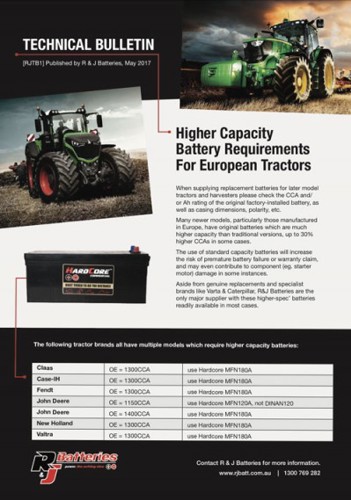 When supplying replacement batteries for later model tractors and harvesters please check the CCA and/or Ah rating of the original factory-installed battery, as well as casing dimensions, polarity, etc.
Many newer models, particularly those manufactured in Europe, have original batteries which are much higher capacity than traditional versions, up to 30% higher CCAs in some cases.
The use of standard capacity batteries will increase the risk of premature battery failure or warranty claim, and may even contribute to component (eg. starter motor) damage in some instances.
Aside from genuine replacements and specialist brands like Varta & Caterpillar, R&J Batteries are the only major supplier with these higher-spec' batteries readily available in most cases.
The following tractor brands all have multiple models which require higher capacity batteries:
| | | |
| --- | --- | --- |
| Claas  | OE = 1300CCA | use Hardcore MFN180A |
| Case-IH | OE = 1300CCA | use Hardcore MFN180A |
| Fendt | OE = 1300CCA | use Hardcore MFN180A |
| John Deere | OE = 1150CCA | use Hardcore MFN120A, not DINAN120 |
| John Deere | OE = 1400CCA | use Hardcore MFN180A |
| New Holland | OE = 1300CCA | use Hardcore MFN180A |
| Valtra | OE = 1300CCA | use Hardcore MFN180A |