Industry News
Introducing the Lokithor 4-in-1 Jump Starter with Air Compressor
Dubbed as "the force of thunder in hand", the Lokithor JA301 is your solution to solving common roadside emergencies within minutes. Lokithor is a 4-in-1 product consisting of a jump starter, air compressor, power bank and a LED light all rolled into one handy device. This multi-purpose product seamlessly combines functionality with convenience to serve as a backup in emergency situations. With Lokithor at your disposal, travel with confidence knowing that you can easily handle a flat battery or a flat tyre .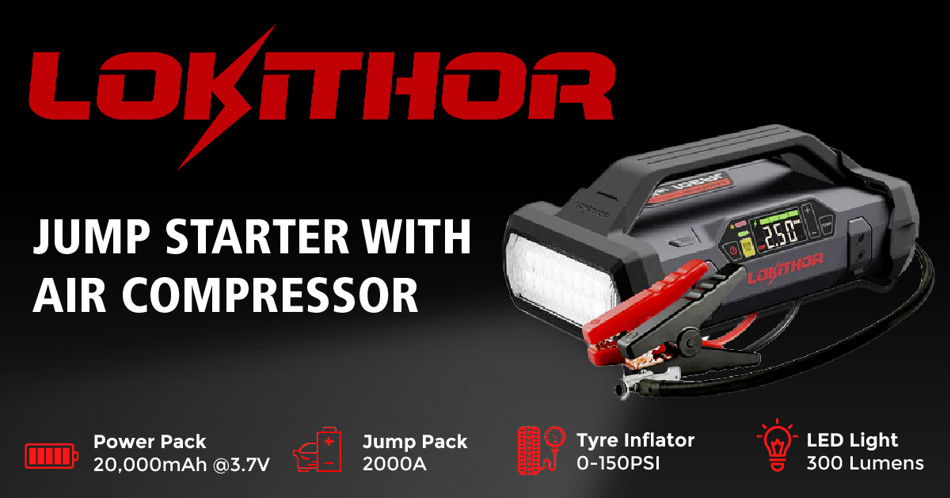 Powerful and Intelligent Jump Starter
The Lokithor's jump starter offers peace of mind for both everyday trips and long distance travel. and the JA301 has the ability to deliver a peak current of 2000 Amps, so you never have to worry about being stranded due to a flat battery ever again. The Lokithor can jump start the vehicle for 1 to 3 seconds and attempt up to 40 starts under normal conditions. The Lokithor JA301 can jump start up to 8 litre petrol engines and up to 6 litre diesel engines making it suitable for a wide range of applications such as cars, SUVs, 4WDs, RVs, motorcycles, vans, boats, ATVs and even tractors and lawn mowers. The Lokithor has a very low self discharge rate with a standby time of up to 30 months.
The intelligent jump starter can also detect the voltage of the vehicle's battery in real time and will alert the user of abnormal conditions. The Lokithor's built in BMS power management system ensures the user's safety when operating the device. It consists of short circuit protection, over current protection, reverse connection protection, over heat protection, over time protection and even clipping off protection. The device is UL certified (UL2743) meaning it conforms with the applicable standards for product safety.
Air Compressor
The thought of being stranded on the road with a flat tyre in the middle of nowhere is daunting for many. Handle this situation with ease with the Lokithor's handy tyre inflator which has the capacity to deliver an output of 150 psi and an airflow of 35 litres/min. The air pump is manufactured with a unique turbocharged movement which is more powerful, more stable and less noisy compared to counterparts. It can be switched between BAR or psi and only require 5 minutes to completely inflate a 195/65/R16 car tyre from 0 to 35 psi. It can inflate up to 6 standard vehicle tyres on one charge. The digital air pump controller allows you to pre-set a specific tyre pressure if desired. Apart from its use as a tyre inflator, the Lokithor comes with 3 different needle types which can be used for inflating air mattresses, pool floats, balls and other inflatable toys while on holiday.
Portable Power Bank for Your Devices
Ensure your smartphone, tablet and other rechargeable devices are always charged with the Lokithor's power bank function. The portable power bank has a USB A port with an output of 5V/3A and 9V/2A. It also supports fast charging (using QC protocol) so if you are ever in an emergency needing to make a quick phone call with a dead phone, the Lokithor is your lifeline.
LED Flashlight with 3 Lighting Modes
When you need a light source to help you out in the dark, the Lokithor's LED light will come to the rescue. While most smartphones have a torch function, they are often not powerful enough to deal with roadside emergencies at night. The Lokithor's LED flashlight features 300 Lumens of intensity and has 3 lighting modes (constant light, flash and SOS) to assist with most situations. The LED light feature of this product becomes particularly useful in situations where you are using the Lokithor to pump a flat tyre or jump start a vehicle in the dark.
For a product that consists of so many features and benefits, the Lokithor is a lightweight yet robust device. It is purposely designed to be easy to carry around with its ergonomic grip and soft-touch handle on top. Its compact design ensures it fits into any space be it at the back of the trunk, under the seat or tool bag.
Lokithor JA301 is now available at all R&J Batteries branches in Australia and New Zealand wide. For more information about the product, please call or visit your nearest branch.