Industry News
High Performance – Motobatt Pro Lithium HP Range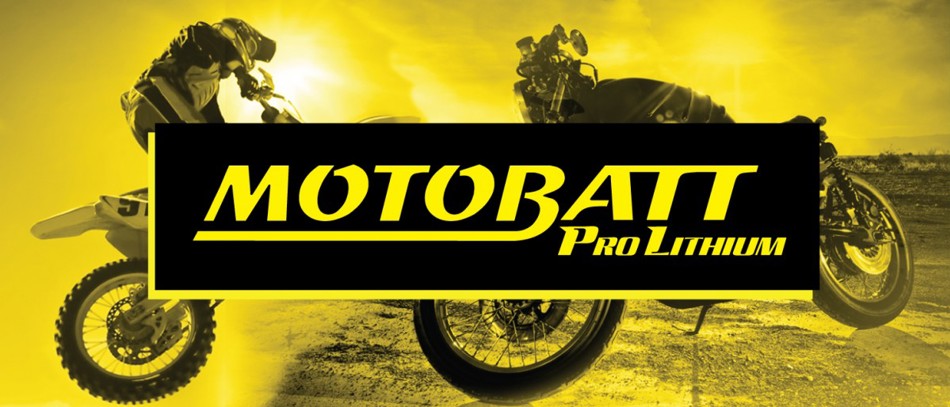 Motobatt have introduced the HP Pro Lithium range of high-performance batteries to their suite of premium Powersport batteries. These 9 new HP models will be added to the existing Pro Lithium range which is a 'must have' upgrade to your motorcycle, dirt bike or Jetski, with features including longer life, drastically lighter weight and faster recharging.
"9 Motobatt Pro Lithium Models cover 92 Conventional Batteries"
The Motobatt Pro Lithium HP Battery range is further advanced from the Lithium P series as they feature both a Protection Circuit Board (PCB) and Cell Balancing Circuit (CBC) which provides safer and superior battery performance with extended life. With all these extra features the HP batteries still weigh below 2kg, 3 times lighter than conventional batteries!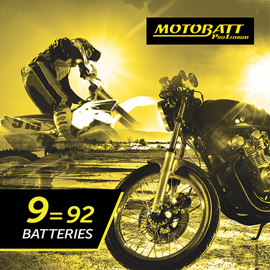 Unique Motobatt Pro Lithium features:
Over charging protection
Thermal protection
Over discharge protection
3x lighter than conventional lead acid batteries, producing much greater power and performance
Strong starting currents. Providing reliable, repeated starts in a wider variety of conditions
Very low idle discharge
Can retain charge for over a year of inactivity
Estimated Life expectancy of 2000 cycles
Short recharging time, 6 minutes for up to 90% charge.
Battery Maintenance and Care
Motobatt Pro Lithium batteries require different care and maintenance from standard lead acid batteries. Always use a charger designed for use with lithium batteries. Warranty will be voided by use of any other type of charger. Recommended Charger: MBZCHPDCFB – Motobatt Fat Boy Charger
Motobatt Pro Lithium batteries are high performance starting batteries. They are not suitable for use where there is a parasitic drain on the battery, e.g. hot grips, alarms, clocks etc.
R&J Batteries are your local Motobatt and motorcycle battery experts. Visit your closest store or contact them today to find the best fit for you bike or jet ski!
Motobatt Pro Lithium Competition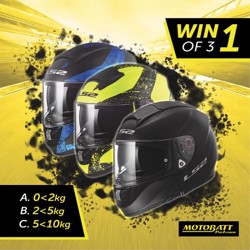 Win 1 of 3 LS2 Motorcycle Helmets!!
Competition Ends 5th October 2018!
To go in the draw to win an LS2 Vector helmet, head to the R&J Batteries Facebook page and answer this question in the comments of the competition post:
The Motobatt HP lithium battery range has gotten bigger but is still as light as a feather. Approximately how much do the batteries in the Motobatt Lithium HP range weigh?
A. 0>2 kg           B. 2>5 kg            C. 5>10 kg
Terms and Conditions:
To qualify, each entrant will have to submit a correct answer directly in the comment section of the competition post on the R&J Batteries Facebook page. The correct answer is: 'A. 0>2 kg'
Any combination of the correct answer will be accepted as a valid answer
Competition period is from 3pm 20th September to 3pm 5th October 2018
Winners must be located in Australia
3 winners will be chosen at random from qualified entrants using a random number generator.
Winners will be notified via direct Facebook message and must claim their prize before the stipulated date and reply with their address, preferred size and preferred colour of helmet otherwise the prize will be forfeited.
Prize pool consists of three LS2 Vector helmets – retail value $329 each. winners win one helmet each. Prize is not convertible to cash. One alternate model LS2 helmet, with the same or less retail value as $329 Vector, may be selected at the winner's option.
Prizes cannot be returned or exchanged
Delivery of prizes are subject to availability
R&J Batteries reserves the right to use the name of the winner in publicity material
R&J Batteries and Whites Powersport staff are not eligible to win this competition but are encouraged to participate.
This competition is run by R&J Batteries and Whites powersports and is no way run nor endorsed by Facebook