Industry News
Optima Hunt for the Ultimate Street Car
Competition and Car Show Hits Calder Park this November
Australia's First Optima Ultimate Street Car Challenge hits Calder Park Raceway on the 16-17th November. Proudly supported by R&J Batteries, this multi-segment competition and car show is designed for real street cars. This first of its kind event is all about fun from the drivers seat, put your car through its paces in the Motorkhana, circuit time trial, drag race and speed/stop segments or show off your pride and joy in either the show & shine or sound & vision competitions.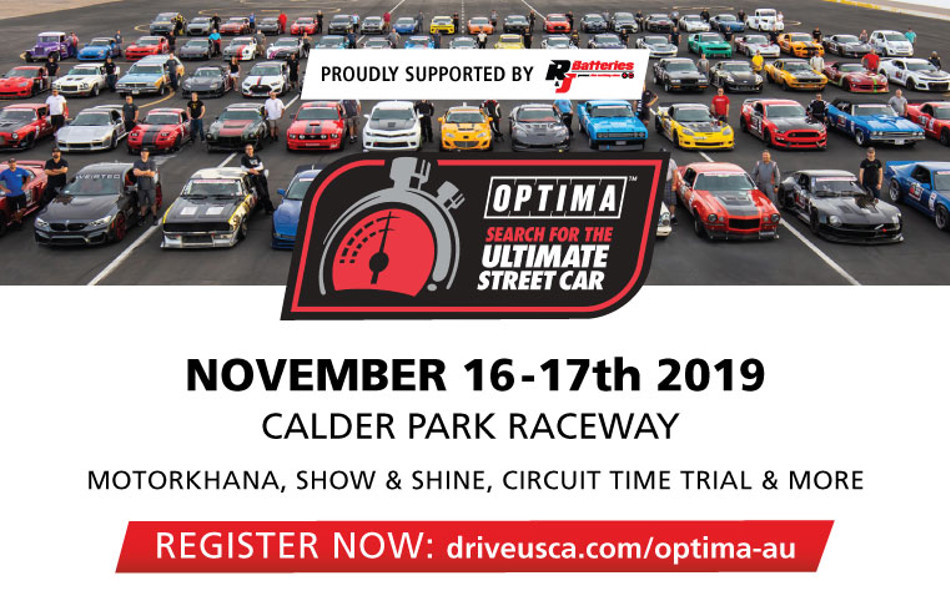 Spectators are free, so no matter what you drive there is something for you and the family. Register now if you think your car has what it takes! Registrations close October 25th.
In the U.S, Optima Batteries have been searching for the Ultimate Street Car for 6 seasons, through a series of consistent national events formatted for enthusiasts of every skill level. For the first time they are bringing the Ultimate Street Car event to Australia in a 2 day event set to test every class of car and enthusiasts of all levels. Each class winner will receive a trophy while the overall winner will also win a trip to Optima's OUSCI and SEMA show in the USA. Whether you're a street or performance car enthusiast, manufacturer or service provider, don't miss the chance to catch this unique and exclusive event.
R&J Batteries are proudly an official importer of Optima Batteries in Australia and New Zealand. The colour coded range of high performance AGM batteries deliver pure power in across their respective application focuses. The RED, YELLOW and BLUETop® batteries cater for Automotive, Deep cycle and Marine applications respectively.
Optima Red Top AGM batteries are the ultimate starting battery designed to deliver the strongest burst of ignition power with reliable starts every time. The Red Top is ideal for hot rods and street cars or any other application requiring a strong starting battery, such as those entering one of the racing segments in the Ultimate Street Car Competition.
The BlueTop and YellowTop are both dual purpose batteries designed for Deep-Cycle and cranking power. The difference is that the BlueTop has been custom designed for use in Marine applications whereas the Yellowtop is structured to take the abuse of 4WD, off-roading or to crank out the decibels. Any entrant participating in a 4×4 class or the Sound & Vision segment would benefit from having a high performing dual purpose battery such as the Optima YellowTop under the hood.