R&J Batteries News
R&J Batteries Renews ISO Certifications
Continuing our ongoing commitment to quality and safety, we are happy to announce that R&J Batteries has again received ISO accreditation. These include ISO 9001:2015 Quality Management Systems, ISO 14001:2015 Environmental Management Systems, ISO 45001:2018 Occupational Health and Safety Management and PAS 99:2012 Integrated Management System.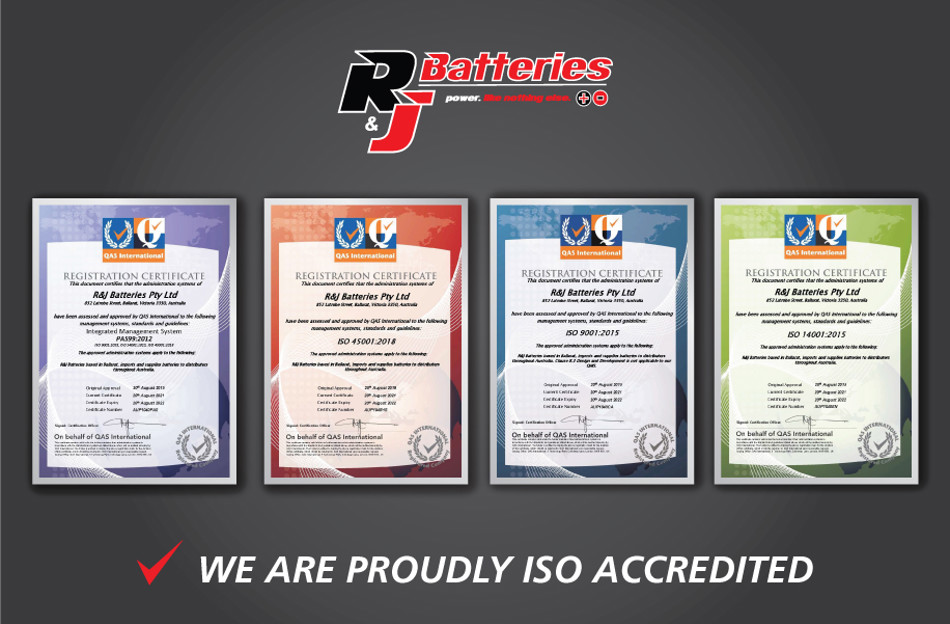 ISO (International Organisation for Standardisation) is the world's largest developer and publisher of International Standards. There are over 20 million businesses across 160 countries that are ISO certified - R&J Batteries is one of these businesses. ISO is an independent, non-governmental and international organisation that develops standards to ensure the quality, safety and efficiency of products, services and systems.
What does this mean for you as a R&J Batteries customer? ISO standards are in place to ensure consistency. Each certificate has separate standards and criteria. We will go into it in detail in the following section and explain how each ISO certificate we have reflects the consistent approach we take in our operations.
ISO 9001:2015 Quality Management Systems
R&J Batteries meet the following requirements designated under ISO 9001:2015:
Demonstrates ability to consistently provide products and services that meet customer and applicable statutory and regulatory requirements
Enhances customer satisfaction through the effective application of the system, including processes for improvement of the system and the assurance of conformity to customer and applicable statutory and regulatory requirements.
ISO 14001: 2015 Environmental Management Systems
We are currently living in a world battling the challenges of climate change and other environmental issues. Along with changing attitudes and increasing expectations for environmental responsibility from businesses, renewing our ISO 14001:2015 certificate was more important to us than ever. This certificate confirms that our environmental management policies and procedures comply with international standards.  


ISO 45001:2018 Occupational Health and Safety Management
ISO 45001:2018 specifies requirements for an occupational health and safety (OH&S) management system which R&J Batteries has in place. Providing safe and healthy workplaces across all our branches is a priority for us. In addition to having a system in place to prevent work-related injury, we actively make efforts to improve our OH&S performance regularly.
PAS 99: 2012 Integrated Management Systems
PAS 99:2012 has been developed to help businesses achieve benefits from integrating the common requirements of all management system standards and specifications and managing these requirements effectively. R&J Batteries' PAS 99:2012 certification is a testament to our business focus, holistic approach to managing business risks, reduced conflict between systems, reduced duplication and efficient internal and external auditing process.
Throughout our 25 years of operation, we have demonstrated our commitment to delivering the highest quality products from around the world to our customers. We work continually with our global supply partners to improve and refine our product range. Our customers can rest assured knowing that all products have undergone quality and safety testing before hitting the shelves at R&J Batteries branches. Our ISO certificates in Environmental Management Systems and Occupational Health and Safety Management will give you peace of mind that you are supporting a business which prioritises environmental responsibility and the health and safety of employees.
To view R&J Batteries ISO certificates visit the certificates page.