R&J Batteries News
R&J Batteries Signs Multi-Year Sponsorship Deal
We are excited to announce the continuing sponsorship of Brad Jones Racing (BJR)'s Car #8 for both 2024 and 2025. The multi-year sponsorship deal follows our successful partnership with BJR since coming on board as the major sponsor of the car in 2020.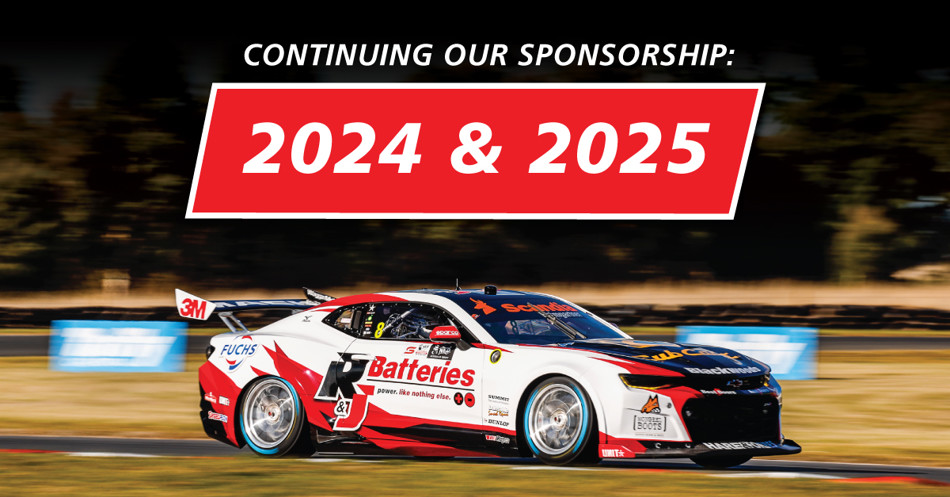 The recent back-to-back podiums at this year's Supercars Championship was a catalyst in the decision. It only made sense to keep the momentum going and extend our support for another two years.
"It is with great pleasure and excitement I would like to announce that R&J Batteries has committed to another 2-year deal with BJR. The Gen 3 era has brought the field back to an even playing field. It has been great to see new faces on the podium at each round so far this year," said Ray Robson, Managing Director at R&J Batteries.
The #8 Camaro's recent performance has been garnering widespread attention and adulation from fans all over Australia and New Zealand. "I receive many comments from customers and friends that were not particular fans of the Supercars Championship previously that are now hooked and look forward to the next round which is warming. We are hoping for some more podiums this year and maybe even a first place podium which would be exciting," added Robson.
Speaking about the extended support from R&J Batteries, BJR Team Owner, Brad Jones said, "our partnership works on many levels and what we have been able to achieve on track this year, alongside the challenges of building all new cars and learning how to get the best out of the Camaros, is proof of the hard work the team has put in and that R&J Batteries sees the value of that."
"Ray and Stuart have been incredible to work with for the last three and a half years and to keep R&J Batteries a part of our team is very exciting. R&J Batteries' passion for motorsport and BJR is unquestionable and I am proud to keep them on board.
Driver André Heimgartner who scored four podiums in the #8 Camaro last year has already won five podiums halfway through the current season. The year kicked off on a strong note with Heimgartner securing his first two podiums of the season early on at the Melbourne Grand Prix and Tasmania SuperSprint. The Darwin Triple Crown event at Hidden Valley saw Heimgartner scoring not one but two podiums in a single weekend. The momentum continued with yet another podium win at the recent Townsville event. Heimgartner and the #8 R&J Batteries Camaro currently sit in 6th place in the Championship leaderboard. 
"I'm thrilled for the team to continue their partnership with R&J Batteries. Ray and Stuart were so welcoming and supportive of me when I joined and I'm happy that they're continuing with BJR. It's a great fit for all of us and I'm thrilled to be a part of the R&J Batteries family," said Heimgartner.
Fans of the #8 R&J Batteries Camaro are now eagerly waiting for the next round of the Championship to kick off on the 28th of July in Sydney.