R&J Batteries News
A Trip Down the Race Tracks
The 2022 Supercars Championship has officially wrapped up with the curtain falling on the Adelaide 500. It has been a fantastic debut year for André Heimgartner at Brad Jones Racing (BJR) and having him behind the wheel of the #8 R&J Batteries Supercar led to some excellent results.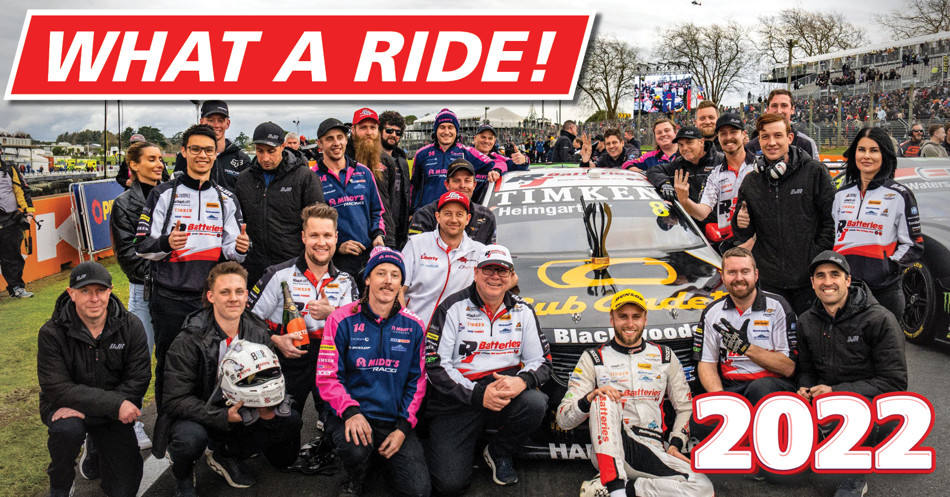 Heimgartner scored his first podium of the season at the Perth SuperNight with a third place finish before going on to repeat the effort at the Winton SuperSprint. When the series returned to New Zealand for the first time since 2019, it provided Heimgartner with additional hometown motivation. He turned in his best result of the year with a 2nd place finish in Race 27 and 3rd place finish in Race 29 at the Auckland SuperSprint. These results put him in contention for the prestigious Jason Richards Memorial Trophy which is given to the highest point-scorer of the weekend.
BJR also took home the Pirtek Pitstop Challenge Trophy for the fourth consecutive year at the Gold Coast 500. Using the #8 R&J Batteries Supercar, BJR's crew delivered a rapid pit stop to win $20,000 and the Golden Rattle Gun proving their efficiency and team work once again.
It was by no means a perfect season with some notable setbacks for the #8 R&J Batteries Supercar especially at the Tailem Bend and Bathurst rounds. At Tailem Bend, an unsighted Heimgartner hit Thomas Randle's stalled #55 car from behind with an impact recorded at 38g. While both drivers walked away with minor injuries and concussions, the significant damage to the #8 car put Heimgartner out of the remainder of the event. At the Bathurst 1000, what was supposed to be a 161-lapper partnership around Mount Panorama between Heimgartner and Dale Woods finished in just five laps following a car crash involving the #5 and #26 cars.
Despite the lows, the season was filled with plenty of highs making it one of the most memorable seasons for R&J Batteries. Stuart Hamilton, Chief Executive Officer at R&J Batteries said, "we are absolutely delighted with André's performance this season. He not only showcased some serious speed on track and delivered some fantastic results but out of the car, he is just a genuinely good guy and we could not be prouder to have him represent the R&J Batteries brand and values."
Team Owner and Principal, Brad Jones, said R&J Batteries was not just a highly valued team partner but had become ingrained in the BJR culture. "We have so many similarities in our businesses. BJR is a regionally based, owned and operated team just like R&J Batteries. Their support over the years has become invaluable and that was particularly evident during the highs and lows we had this season."
André Heimgartner said he had felt incredibly welcomed by the R&J Batteries team from the outset and the strong relationship provided the best possible environment for him. "It is not something we as drivers touch on a lot but having that support of a committed partner behind the team cannot really be put into words. R&J Batteries is always 100 per cent behind everything we do, and I would like to thank them for their unwavering support this year."