Industry News
Delkor Batteries Win KS-QEI Award for the 17th Consecutive Year
Delkor® proves yet again why it is one of the top automotive battery brands in the market. The brand was awarded the prestigious Korean Standard Quality Excellence Index (KS-QEI) award in the automotive battery category for the 17th consecutive year since 2006.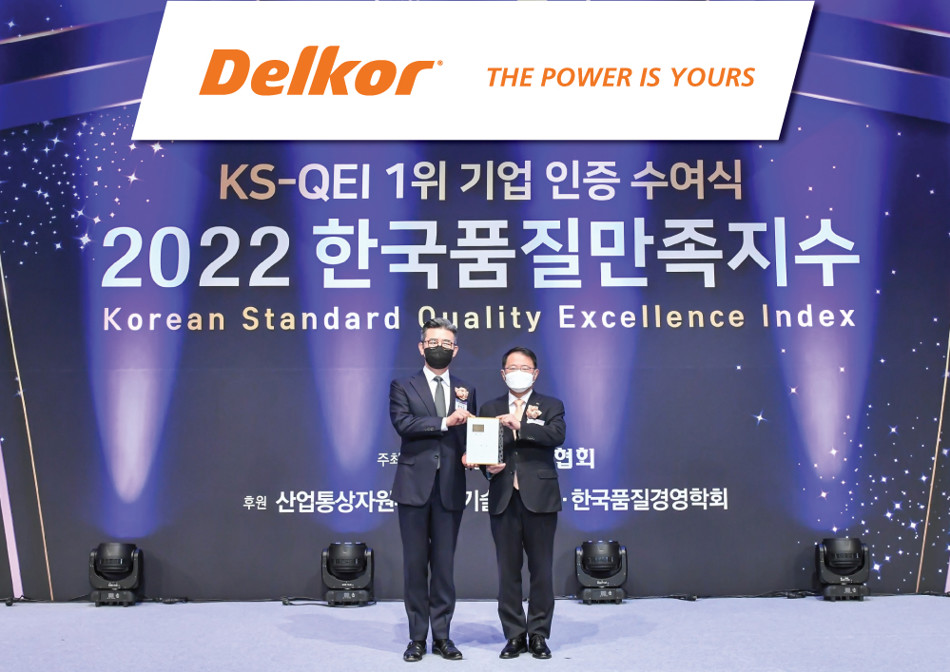 The KS-QEI is Korea's only comprehensive index of consumer satisfaction and expert evaluation. The Association surveys consumers and industry experts on their satisfaction and experience with different products and services and measures results against two indices – Usage Quality Index and Emotional Quality Index. The Usage Quality Index is based on performance, reliability, durability, stability, usability, and accessibility whereas the Emotional Quality Index is based on brand image, brand awareness and novelty. Delkor batteries has once again successfully met these criteria and emerged with top scores this year.
Delkor batteries are manufactured by Clarios Delkor Corporation, a global leader in advanced energy storage solutions. Speaking about the recent award, the Vice President and General Manager North Asia at Clarios, S.J Won, said, "it is a great honour to be selected as the No. 1 automotive battery in the KS-QEI for 17 consecutive years.  A big thank you to our customers who have put their trust and recognition in Delkor batteries.  Clarios Delkor Corporation will continue to deliver reliable, safe, and quality vehicle batteries, providing peace of mind and comfort to anyone who drives a vehicle with a Delkor battery in it."
Delkor batteries are exclusively distributed by R&J Batteries in New Zealand and Australia. Revealing more about R&J Batteries' experience distributing Delkor batteries, Stuart Hamilton, Chief Executive Officer at R&J Batteries said, "we have distributed Delkor Batteries for close to 25 years in Australasia. The main driver behind our dedication to the Delkor product is the unparalleled quality of the product. We have visited the factory on many occasions and have seen firsthand the lengths they go to in R&D, QA and engineering to ensure the quality of their product is vastly superior to any other South Korean made battery. It is estimated that 60% of all aftermarket vehicle batteries sold in Australia are made in South Korea."
"The fact that Delkor has won such a prestigious quality award for 17 consecutive years is testament to why Delkor is the best battery made in South Korea, and one suitable for the conditions in New Zealand and Australia," added Hamilton.
Established in 1985 in Korea, Delkor has nearly 40 years of experience in the automotive aftermarket industry. In 1987, it was the very first battery brand in Korea to offer a range of calcium maintenance-free batteries. In the subsequent decades, the Delkor brand continued to build on its market leading position to offer automotive batteries with new technologies and expand its range to include batteries for other applications.
The extensive Delkor range includes batteries for automotive, deep cycle, commercial, marine and leisure and lawn and garden applications. Delkor Commercial batteries are high-strength batteries manufactured with tough internal components and materials to provide long-lasting, superior power for trucks and buses. Delkor Deep Cycle batteries are built to last longer, provides high bursts of power in short periods of time and requires no maintenance. The Delkor range of Marine and Leisure batteries are developed with thicker plates to power long journeys in all kinds of terrains and weather conditions. Delkor Lawn and Garden batteries are built with cutting-edge technology to stand up well against vibration, dirt and grass in challenging terrain conditions to help keep lawns and gardens beautifully maintained all year round.
Businesses interested in selling the award-winning range of Delkor automotive batteries or any of the other battery types, consider joining R&J Batteries' dedicated Delkor Battery Specialist program. The program aims to assist stockists increase sales of Delkor batteries by granting access to a multitude of marketing collateral, tools and resources. It follows a tiered structure which allows businesses of varying sizes and scales to participate, providing support according to individual business needs.
For more information about Delkor batteries or the Delkor Battery Specialist program, please get in touch with your local R&J Batteries branch or send us a message.