Industry News
Extended Warranty Now Available on all 48V RELiON InSight Batteries
As the Master Distributor of RELiON batteries in Australia and New Zealand, R&J Batteries is pleased to announce the warranty extension on all 48V RELiON InSight batteries sold from January 2020 onwards. The batteries which previously came with a 3-year warranty have now been extended to a 7-year full replacement warranty. This warranty extension is evidence of the quality of RELiON batteries and the commitment both RELiON and
R&J Batteries have in ensuring RELiON batteries provide the best in quality and value for our customers. Please note that the existing Warranty Statement on all other RELiON battery products remains the same.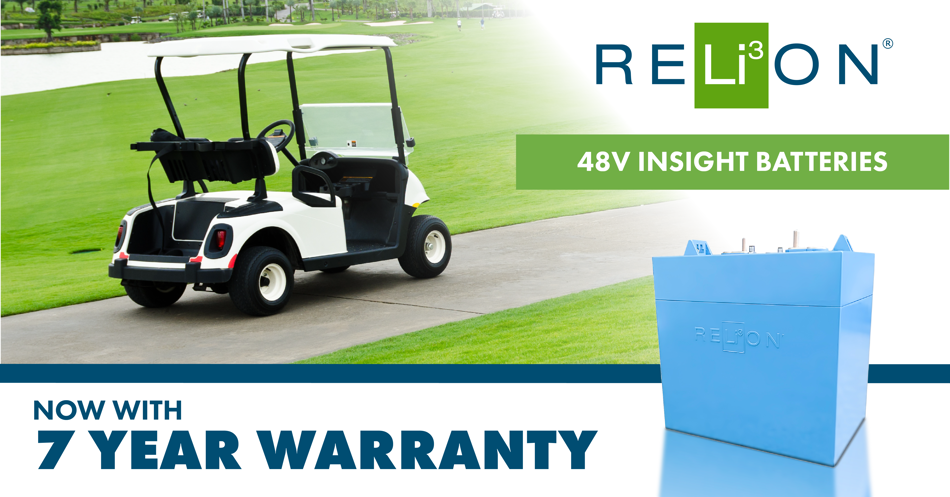 The RELiON InSight Series™ is the first scalable, drop-in replacement lithium battery built from the ground up by a team of battery experts. RELiON developed InSight Series by looking at where lithium batteries fell short and resolving by designing a battery that solved the issues early lithium solutions brought to the market, rather than repurposing an existing product. The result is a quality lithium battery with an intelligent, intentional design. InSight batteries feature all the benefits of lithium batteries – longer life, no maintenance and faster charging. Here's a snapshot of InSight Series' intelligent features which are designed to provide exceptional return on investment to consumers for years to come:
Features and Benefits of RELiON InSight Series
InSight Series features an elegant BMS that provides precision balancing within a single battery and between batteries in a parallel system without the need for charging batteries individually.
RELiON's proprietary software with learning algorithms makes InSight the only lithium battery capable of calculating state of charge and stage of health that gets even more accurate over time.
Unlike other lithium batteries that can trap heat, the InSight Series uses a carefully engineered cooling management system to quickly remove heat from inside the battery during conditions of high discharge and recharge currents. This prevents overheating of critical components and extends the life of the battery.
InSight batteries offer freedom and flexibility so you can scale your system to provide increased power and energy (up to 300Ah) as needed.
The innovative design of our InSight battery makes it easy to install.. They also use the connections you are already accustomed to when connecting in parallel.
State-of-the-Art Construction
InSight was built to the highest industry standards from the inside out. InSight Series batteries undergo rigorous quality control checks and inspection at each stage of assembly to ensure a reliable, consistent and high-quality product.
Quality
InSight batteries are made with the best components needed to pass the stringent requirements of URL certifications and manufactured to the highest standards, offering superior performance and long life.
RELiON InSight Series 48V lithium iron phosphate battery is a GC2 sized drop-in replacement battery that delivers high-quality performance, power and precision. Along with extended warranty, 48V batteries are a perfect choice for golf cars, utility vehicles, LSVs and AGVs. For more information on these batteries, please see the product data sheet below. For more information on the extended warranty, please see the warranty statement below. If you would like to speak to a battery expert directly, please call 1300 769 282 today.