Industry News
Fullriver HC105-12HR
OVERVIEW
The Fullriver HC-HR Series battery range features advanced AGM (Absorbent Glass Mat) technology in special heat-resistant casings making them ideal for automotive use, particularly in heavy commercial applications including long-haul road transport, 4WD dual-battery installations, mining and emergency power generation.
Now you really can have the best of both worlds – a spill-proof AGM battery with more cranking power than conventional starting batteries (up to 2000 crank amps for 5 seconds @ 25 deg. C) combined with true deep-cycling capability.
High-purity lead AGM design accepts faster re-charging, providing more useable power than conventional deep-cycle batteries, making the Fullriver HC-HR range the ultimate choice for modern interstate trucks with large-capacity engines and very high accessory power requirements.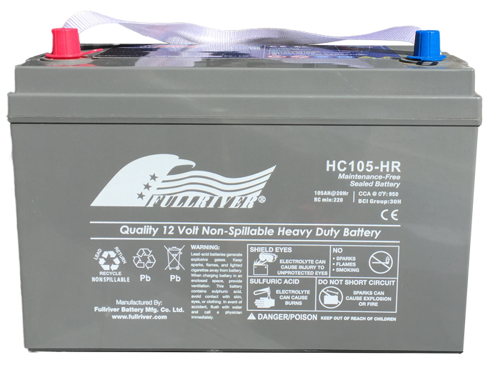 APPLICATIONS
Commercial Road Transport
Buses and Coaches
Earthmoving machinery
Mining machinery
Commercial Marine applications
Standby Diesel Generators
4WD Dual-Battery installations
FEATURES & BENEFITS
Non-spillable AGM construction
100% maintenance-free
Safe for installation inside truck cabins
Can be mounted in any direction (excluding upside down)
Low internal resistance design – ideal for both starting and cycling
High-rate discharge – high current power delivery
Deep-discharge with excellent recovery – rapid charge acceptance
AGM approved by Worksafe® for use in standby diesel generators
High vibration resistance extends life in severe-service applications
TECHNICAL SPECIFICATIONS
Battery Type:
VRLA / AGM
Voltage:
12
Cold Cranking Amps -18°C, SAE:
950
Cold Cranking Amps - 0°C SAE:
1100
Reserve Capacity:
200 Min.
Overall Dimensions:
L330 x W173 x TH233
Wet Battery Weight:
34.6 Kg
Internal Resistance
< 4 milliOhms
Capacity
20 hour rate (5A to 10.5 volts)
105Ah
10 hour rate (9.3A to 10.5 volts)
98Ah
5 hour rate (17.4A to 10.2 volts)
90Ah
Capacity affected by temperature (20 hour rate)
40°C
 102%
 25°C
 100%
 0°C
 85%
 -15°C
 65%
Self Discharge (@25C)
Capacity after 3 month storage
91%
Capacity after 6 month storage
82%
Capacity after 12 month storage
64%
Max Discharge Current (@25C)
1000A (5 seconds)
Cranking Performance
1100Ca @ 0°C
Cranking Performance
950CCA @ -18°C
Charging (constant voltage)
Cycle
Initial current 22A or less. 14.4 – 14.7V @ 25°C
Float
13.6 – 13.8V @ 25°C
Container Material / Colour:
Special Heat-Resistant ABS / Grey
Lid Type / Colour:
Sealed, Valve-Regulated / Grey
Positive Plate Type:
Full-Frame
Lead-Calcium
Negative
Full-Frame Lead-Calcium
Separator Type:
Absorbent Glass Mat (AGM)
Assembly Layout:
1 (LH Pos)
Terminal Type:
Standard SAE
BCI Group
31 AGM