R&J Batteries News
Introducing Predator Lithium Batteries
The Predator brand of batteries has expanded once again with the addition of a new range – Predator Lithium. Powered by lithium iron phosphate (LiFePO4) chemistry, the new range has been specifically developed for customers needing a high-quality power solution for leisure, industrial and solar applications.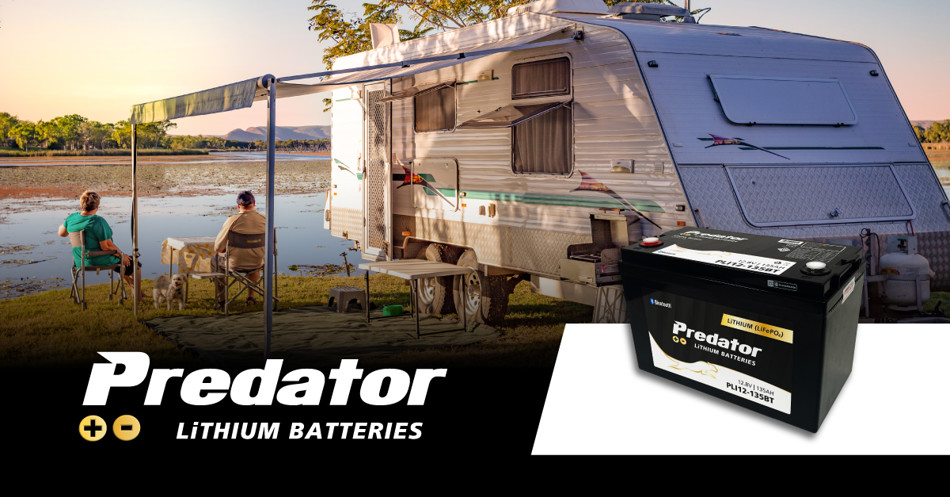 The Predator Lithium range currently consists of the PLI12-100BT and PLI12-135BT which have a capacity of 100 and 135 Amp Hours (Ah) respectively. These 12V deep cycle batteries are packed with several features making them a serious contender in the growing lithium battery space. Among the different types of lithium battery chemistries available in the market, LiFePO4 batteries such as Predator Lithium are well regarded for safety and stability.
Predator Lithium batteries contain greater usable capacity compared to conventional lead acid batteries. They deliver over 3500 cycles at 80% Depth of Discharge (DoD) and are capable of being charged at up to 100A. They are also less than half the weight of comparable lead acid batteries. These features make Predator Lithium batteries an excellent choice for deep cycle applications where high cycle life and low weight are paramount.
Predator Lithium batteries score high on the technology front as well. When in operation, the batteries can be connected to the Predator Bluetooth App to obtain real-time information such as battery status, voltage, State of Charge (SoC), temperature and individual cell voltage. The App can be downloaded for free via the Apple App Store and Google Play Store. Battery monitoring offers great benefits - travellers can plan for the journey ahead and avoid unexpected surprises on the road; and businesses can maximise productivity, minimise down time and reduce operating costs.
Tim Lennon, Product & Technical Manager at R&J Batteries has tested the performance of these new batteries thoroughly. "The Predator brand has been built on a reputation of delivering premium quality products and excellent value for money. The Predator Lithium range is competitively priced and includes a 3 year nationwide warranty.  As previously mentioned, a key benefit of LiFePO4 batteries is their usable capacity.  Compared to lead acid batteries which should only be discharged to 50% SoC, the full capacity of a Predator Lithium battery can be used.  This makes Predator Lithium batteries a compelling, cost-effective alternative to flooded and AGM lead acid batteries," said Lennon.
The Predator Lithium range is an excellent choice for those looking to upgrade the battery in their caravan, camper or other deep cycle application to a lighter and longer lasting alternative. Predator Lithium batteries are exclusively distributed by R&J Batteries and associated stockists in Australia and New Zealand. Please contact your local branch for further information.