R&J Batteries News
Meet the REDMAX Portable Power Boss
We are excited to introduce the latest addition to our REDMAX accessories range. The all-new REDMAX Portable Power Boss is a battery box which comes pre-wired with a number of output options to power all your 12V equipment. It is the perfect choice for travel enthusiasts looking for both convenience and reliability while caravanning or camping.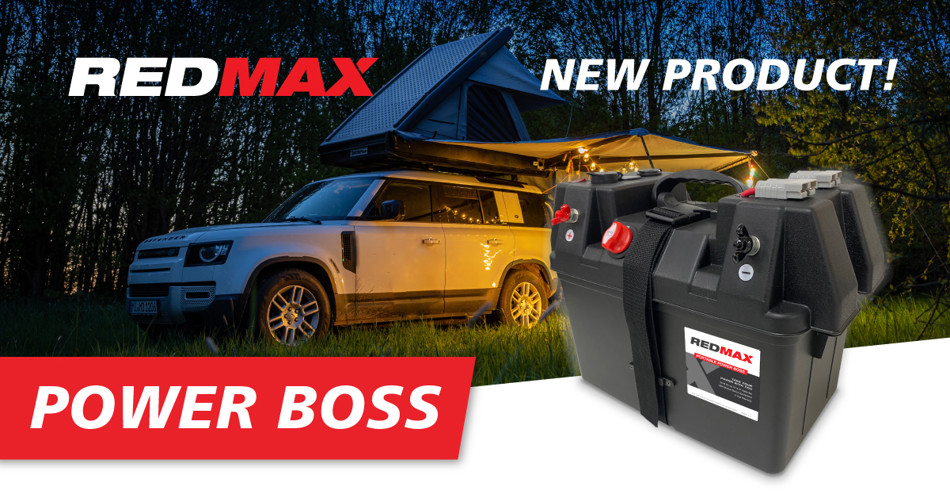 The REDMAX Portable Power Boss is designed with a number of features to give travellers reliable power on the go. Compatible with Group 27 and 31 size batteries, travellers can connect their deep cycle battery to power 12V accessories such as portable fridges, travel ovens, water pumps, cabin fans and many other appliances. The Power Boss also consists of dual USB 3.0 and USB C ports to power up or charge your smaller devices such as phones, iPads and lights.
A major feature of the Power Boss is the two 50A Anderson plugs , a popular choice in the caravan and camping market. These allow for direct connection to caravans, solar panels, many DCDC chargers just to name a few. It wouldn't be a battery box without still having the handy 12V accessory power socket which is easily accessible at the top of the box. This sits next to the digital voltage gauge which easily shows you how much charge you have left on your deep cycle battery.
The deep cycle battery is not included with this model but R&J Batteries recommend the Delkor DC27 and DC31 for your flooded battery or the Hardcore DC12-105 and DC12-120 for an AGM option.
The Power Boss can be accompanied by other accessories in the REDMAX range for the ultimate travel experience. The range consists of portable power hubs, solar blankets, solar panels, solar charge controllers and solar power banks. The range also includes other advanced tools for the workshop like the multi-application diagnostic tool, battery terminal brushes and multimeters.
If you are looking for the ultimate portable power solution, the REDMAX Portable Power Boss combined with a REDMAX solar panel or solar blanket and a REDMAX solar controller will provide a standalone power solution.
If you would rather an all-in-one solution for your portable power, checkout our REDMAX Portable Power Hub. The Power Hub is a portable AC and DC power supply consisting of a rechargeable LiFePO4 lithium battery and a BMS which supplies safely stored energy as either 240VAC for mains powered devices or as DC voltage for USB and 12V devices. Besides travelling, it is useful in emergency, trade and commercial situations where mains power is unavailable.  The Power Hub can also be combined with a REDMAX solar panel or solar blanket for a standalone solution.
The REDMAX Portable Power Boss is exclusively distributed by R&J Batteries in Australia and New Zealand with and excellent 2 year warranty. For more information about the Power Boss or any of the other REDMAX products, please contact your local R&J Batteries branch or click on the button below.