R&J Batteries News
Motobatt in NSW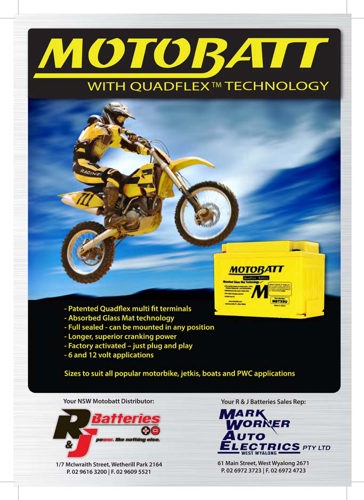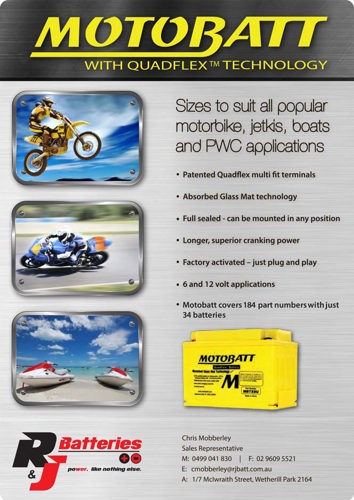 R&J Batteries has joined forces with Birdman Motorcycle Accessories to become the exclusive NSW/ACT distributor for the highly regarded Motobatt range of motorcycle, PWC and light water craft batteries.

As a genuine Absorbed Glass Mat (AGM) battery, Motobatt batteries are fully sealed, maintenance free, high performance Sealed Lead Acid (SLA) batteries.
Incorporating the patented QuadFlex terminal technology, Motobatt batteries can cover more than 184 different part motorcycle battery part numbers with just 34 Motobatt batteries.

Motobatt have also recently introduced two six volt batteries, the MBT6N4 and the MBT6N6. They have also just launched a high performance battery designed specifically for Harley Davidson motorcycles, the MBTX20UHD.

R&J Batteries also stock and distribute a range of Motobatt battery related accessories including chargers and test equipment.

For more information on Motobatt in NSW contact R&J Batteries
1/7 McIlwraith St
Wetherill Park
NSW
Phone – 02 9616 3200
Fax – 02 9609 5521