Industry News
Power Your Game with the ALLiON GC2
The all new ALLiON 48V 30Ah GC2 battery is now available at R&J Batteries branches nationwide. Our Product and Technical team partnered directly with the manufacturer to develop and test the ALLiON 48V GC2. This battery is a lightweight, high cycle replacement for deep cycle lead acid batteries used in 48V applications such as golf carts, commercial turf equipment, recreational vehicles and floor cleaning machines.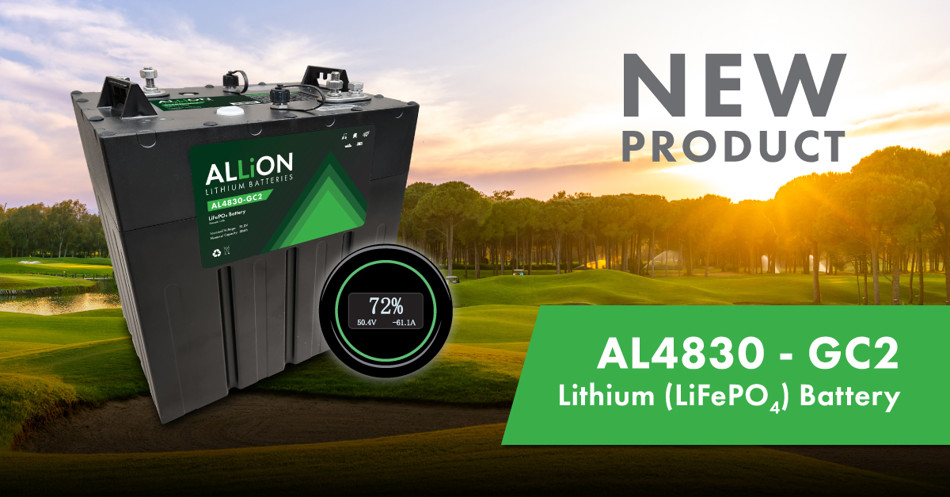 The ALLiON GC2 is a 48V Lithium Iron Phosphate (LiFePO4) battery with a capacity of 30 Amp Hours (Ah). A standout feature is the integrated Battery Management System (BMS) which ensures that operation is safe and reliable over the life of the battery. The ALLiON GC2 offers all of the benefits of LiFePO4 chemistry including fast recharge, and high levels of safety and stability. It can deliver up to 6,000 cycles and provides significantly more usable capacity than conventional lead acid batteries. The battery's IP67 rated case provides a high level of protection against water, dust and sand thanks to small details like the inclusion of a dust cap over the power switch.
The ALLiON GC2's Battery Management System includes CANBus communication for remote monitoring. By connecting the battery to the ALLiON AL4830-GAUGE Battery Monitor via the CANBus communication port, you can remotely check the battery's State of Charge (SoC), voltage and current flow. The Battery Monitor can be easily installed in golf carts and industrial equipment to display useful real-time battery information.
For golfers currently powering their golf carts with lead acid batteries, ALLiON GC2 lithium batteries are a worthy upgrade to consider for the following reasons:
2 to 3 ALLiON GC2 batteries are required for most 48V vehicles (depending on required range), compared to 4 to 6 lead acid batteries.
Lighter batteries reduce overall vehicle mass which improves performance and range
Many existing battery chargers have a lithium capability
Remotely check your State of Charge with the battery monitor connected via CANBus
ALLiON GC2 batteries will provide up to 3 times the number of cycles compared to conventional lead acid batteries
ALLiON GC2 batteries are exclusively distributed by R&J Batteries in Australia and New Zealand. The complete ALLiON range consists of sizes to suit most makes and models of recreational vehicles, motor homes and caravans. To determine whether the ALLiON GC2 is a suitable product for your application and power requirements, please contact your local R&J Batteries.