Industry News
Meet the newest member of the Predator family: Introducing Predator Motorcycle and Powersports
The Predator battery range has recently expanded to include a high performing and comprehensive range of Motorcycle and Powersport batteries. These will join the original range of Predator batteries which has been performing strongly for several years now. The original range features sizes to fit most modern popular vehicle requirements, including some of the more unique, hard to find specifications. Predator Batteries are known for their genuine high-quality standard, long life, and advanced, reliable products.

The Predator range of motorcycle and powersports batteries is introduced as one of the most comprehensive motorsport ranges available in Australia. Made by a world leading motorcycle and AGM battery manufacturer, Predator Motorcycle & Powersport batteries offer the enthusiast a truly world class battery at a value for price.
Motorcycle and Powersports
The broad, new range of Motorcycle and Powersport batteries was introduced to accommodate a growing number of customers with more varying and unique requirements. It was created with the enthusiast in mind. This additional range has allowed us the opportunity produce a comprehensive product with the ability to meet and withstand the demand of today's Powersport applications.
Our Predator Motorcycle and Power Sports range consists of two unique offerings: our AGM range providing a total maintenance-free operation and the Conventional range, exceeding many original OEM specifications for starting and AMP hour capabilities.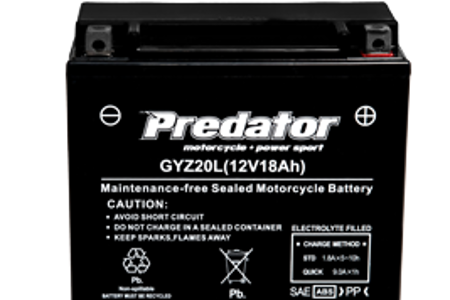 AGM Range
The Predator AGM Powersport batteries were constructed with lead calcium alloy and Absorbed Glass Mat technology to provide a total maintenance-free operation.
No spills, no leaks, or water to check. This design will provide you with higher amp hour capacity, longer cycle-life and greater durability. The Absorbed Glass Mat (AGM) and Through-The-Wall (TTP) intercell connector technology deliver superior vibration resistance, even in the most extreme conditions.
Unique Features
Durable ABS plastic case
Factory activated and acid pack options available
Higher starting performance
Excellent charging acceptance
High vibration resistance
Low self-discharge.
Electrolyte suspended in AGM separators – no spillage risk
Cast-On-Strap and TTP technology
Sulphation resistant technology.
Advanced calcium lead alloy technology, true maintenance-free design.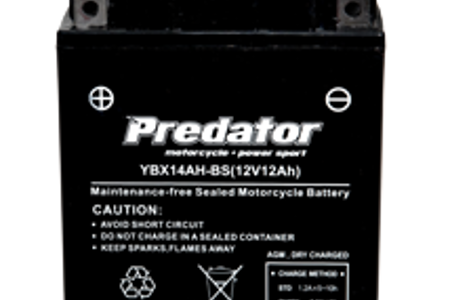 Conventional Range
The Predator conventional range of Powersports batteries is designed to meet and exceed many original OEM specifications for starting and AMP hour capacities.
Heavy duty glass mat/PE composite separators improve vibration resistance and through-the-wall (TTP) intercell connectors minimize internal resistance for maximum power. Quick remove vent caps and transparent casing make checking electrolyte levels easy and no fuss.
Features
High starting performance.
High-quality composite of Glass Fibre/PE separators
Advanced low antimony lead alloy to reduce maintenance requirements
High capacity and longer life.
Excellent charging acceptance and vibration resistance
TTP Through-The-Wall intercell technology.
Sulphation resistant technology.
Dry charged design, long storage time, could be used at any time.