Industry News
Predator Range of Batteries Expands with New Additions
R&J Batteries' Predator range of batteries has grown to include 6 new batteries. Manufactured in an ISO9001 accredited state-of-the-art manufacturing facility, the new additions to the range include three flooded deep cycle batteries (GC2, GC8 and GC12) and three 6V AGM deep cycle batteries. Continue reading to learn more about the Predator GC Series and Predator ED Series.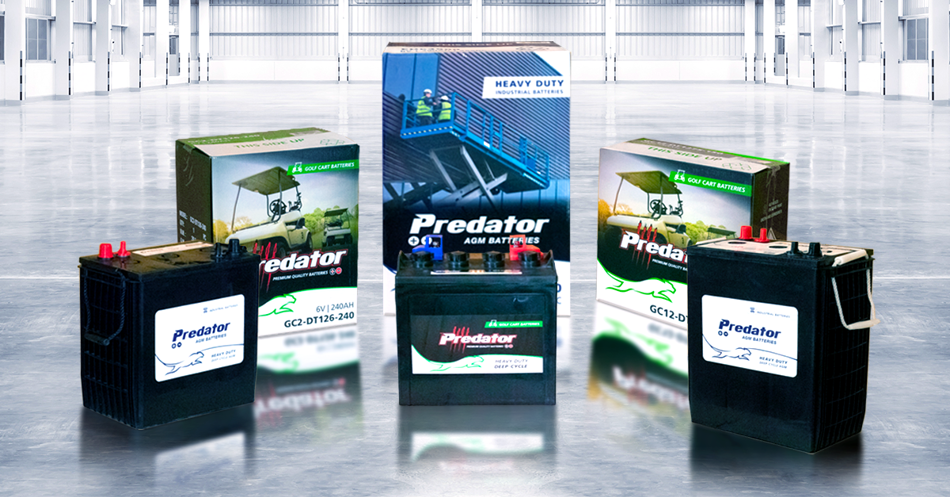 Predator GC Series
Predator GC2-DT126-240, GC8-DT876-170 and GC12-DT1275-150 are standard-size industrial deep cycle batteries specially designed for golf carts, scissor lifts, industrial floor scrubbers and energy storage applications. These batteries feature enhanced SiO2 – PVC Nano Grade separators for maximum performance and durability. Their characteristic thick plates provide dimensional stability,making them suitable for high cycle motive applications. The proprietary design caps have been developed to minimise water loss during use. The Predator GC2, GC8 and GC12 also use a proprietary alloy and paste composition for higher conductivity. For technical specifications, please refer to the individual product data sheets below.
Predator ED Series
Predator ED62750, ED63400 and ED 63900 6V batteries are premium quality true deep cycle AGM batteries best suited for industrial 6V applications including floor scrubbers, scissor lifts as well as energy storage applications. The grids and active material are manufactured using 99.99% pure lead to ensure maximum performance and durability. A unique double separator configuration delivers high density and excellent vibration resistance. The valve regulated, non-spillable design delivers outstanding cycle life and a low self-discharge rate for longer shelf life. For technical specifications, please refer to the individual product data sheets.
The new Predator batteries are available at all R&J Batteries branches and selected distributors across Australia and New Zealand. Please note that all Predator batteries are produced in accordance with ISO9001, ISO14001 and TS16949. We adhere to a stringent Quality Assurance process which includes testing of each and every single battery for performance, resistance, leakage and capacity output prior to leaving the production line. For more information on these new batteries, contact your local R&J Batteries branch.