R&J Batteries News
Recycle Dead Batteries with B-Cycle
We are excited to announce that all R&J Batteries branches in Australia are now accredited B-cycle drop off points. B-cycle is Australia's official battery recycling Scheme committed to creating a responsible battery lifecycle from purchase to disposal, by giving dead batteries a new life. This is a government-supported scheme run by the Battery Stewardship Council (BSC) and is authorised by the Australian Competition and Consumer Commission (ACCC).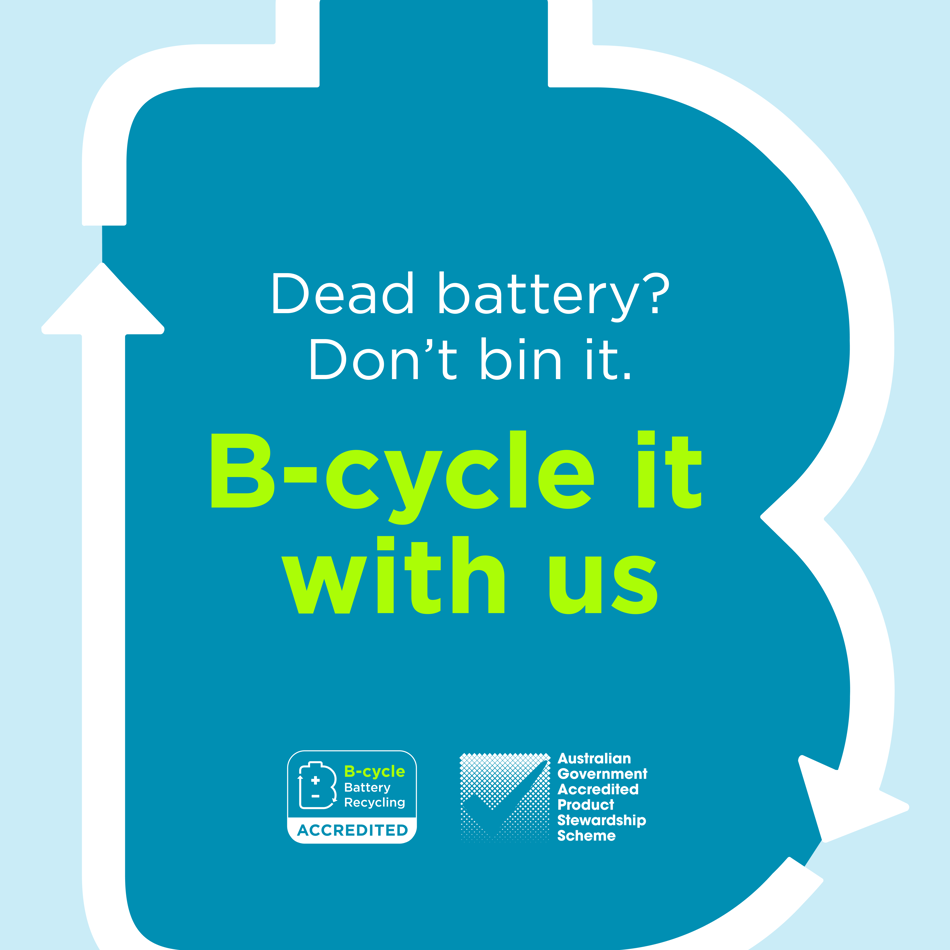 According to B-cycle, 90% of Australia's used batteries end up in landfill, leaking toxic materials into the environment. The battery contents end up entering our soils and waterways affecting humans, animals and plants. The Scheme aims to reuse the valuable materials found in these batteries to reduce mining activities in Australia and conserve nature and its resources. This not only creates financial opportunities for recyclers but also assists in conserving the nation's energy resources for future generations.
Speaking about the decision to join the B-cycle Scheme, R&J Batteries' Chief Executive Officer, Stuart Hamilton, said, "for many years, R&J Batteries has been a proactive recycler of lead batteries. We are also members of the Australian Battery Recycling Initiative (ABIA) and Battery Stewardship Council. We take our environmental responsibilities very seriously and by extending our recycling capabilities to include all other battery types, we are offering our customers a complete end of life battery recycling service."
Small batteries, regardless of battery type or chemistry, weighing less than 5kgs can be dropped off free of charge for recycling at any R&J Batteries branch across the country. Recycling of batteries larger than 5kgs are restricted to lead and lithium only, and a disposal charge will apply to these larger lithium products.
B-cycle makes battery recycling simple for both households and businesses. Batteries disposed in the rubbish bin can be a serious fire hazard if they are damaged or crushed. They also end up in landfill affecting our ecosystems. Follow these simple 3 steps to give your used batteries a new lease of life:
Tape the terminals of your batteries to prevent risk of fire
When battery terminals are touched, they can spark and lead to a fire hazard. Use non-conductive tape such as duct tape, clear sticky tape or electrical tape to cover the terminals. It is also worth noting that different battery types have terminals in different locations. For instance, commonly used batteries such as AA, AAA and AAAA have terminals at both ends of the battery. On the other hand, 9-volt batteries have terminals on the same side.
The following batteries can be B-cycled:
Regular AA and other sizes – standard batteries used to power many household items such as AA, AAA, C, D, 9V, 6V lantern, etc.
Button batteries – small coin-sized batteries used to power devices such as watched, remote controls, hearing aids, etc.
Rechargeable batteries – standard size rechargeable batteries of all chemistry types
Easily removable batteries – batteries that can be easily removed such as those in power tools, digital cameras and e-bikes.
The following batteries cannot be B-cycled:
Mobile phone batteries
Laptop or TV batteries
Lead acid batteries*
Exit lighting
Note: *these can still be recycled at R&J Batteries branches through ABIA's recycling initiative

2. Put them in a glass container and keep out of reach from children
Store dead batteries in a glass container and clearly label it. When choosing a container, glass containers that are not airtight are best as they do not allow pressure to build up. Refrain from using a metal container or one with other metal objects inside as they may spark and cause a fire hazard. Keep batteries in a cool and dry place and away from heat sources.
We also cannot stress the importance of keeping batteries out of reach from children. Small batteries such as button batteries which are commonly found in toys are appealing to children due to their shiny and reflective properties. When a button battery is swallowed, it can cause severe injury or death.
3. B-cycle them at your nearest Drop-off point
Bring your safely stored batteries to any R&J batteries branch in Australia which are now B-cycle drop-off points. Click the button below to locate your nearest drop-off point.
Find Nearest B-cycle Drop Off Point