R&J Batteries News
R&J Batteries Opens South Island Distribution Centre
Expanding its Presence in New Zealand by Entering into a Merger Agreement with ACME Batteries
Bursting into the New Zealand market just under 2 years ago, R&J Batteries is further expanding its presence opening a second distribution point in the South Island and entering a merger agreement with well-known battery distributor ACME Batteries.
100% New Zealand owned and operated, ACME Batteries has long been a key presence in the New Zealand battery aftermarket with a strong following of their KOBA brand. Director Lance Johnson and his nationwide team of 9 have built up ACME's reputation of high-quality products, backed by service you and rely on.

The joining of R&J Batteries and ACME provides significant synergies and capabilities for servicing the entirety of New Zealand. The merger effectively doubles the size and representation of both companies across the country. Both company names will be retained as will their strong battery brands such as KOBA, Delkor, U.S. Battery, Fullriver and many more. Lance will remain a director of ACME and Ray Robson will join him as co-director.
This merger not only strengthens the respective businesses but will also provide their expanding customer base with better service and an increased range of superior quality batteries.
Get Directions Call us Battery Finder
The pair will continue to expand their presence in the New Zealand market with the introduction of a new South Island Distribution Centre based in Wigram, Christchurch. This huge Christchurch branch will be the first to have both businesses housed under one roof and positions both businesses well to expand throughout the South Island. The position will allow for good access to service local Christchurch customers as well as distribution support for freighting to wider South Island customers.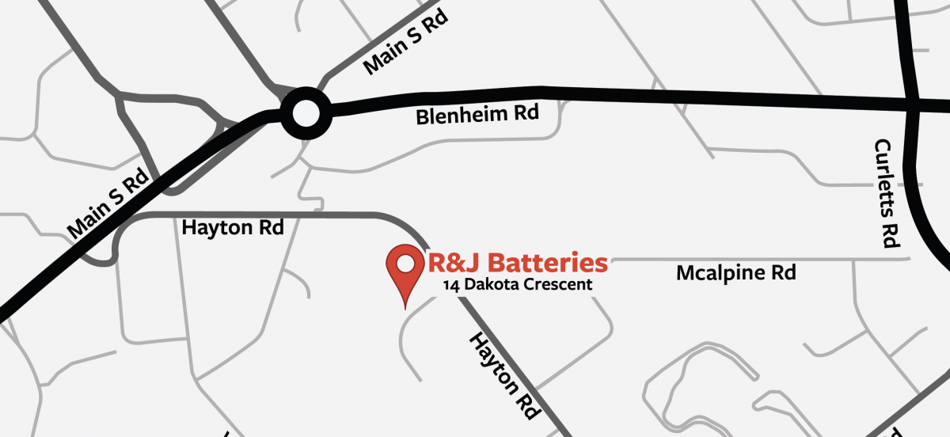 "We have been servicing both North and South Island customers from our Auckland distribution centre so the new site is a welcomed addition to increase our service levels and allow easier access to existing and new customers throughout the South Island." Said Warrik Skulve, R&J Batteries' New Zealand General Manager.
The Christchurch location will be headed up by newly appointed South Island Manager, Russell Armstrong. Warrik adds, "We have welcomed Russell onboard to set up the new Christchurch site and to begin building relationships South Island wide. Russell has spent his career in the Auto electrical market and has a good understanding of the battery market and technical grounding to support our products."
R&J Batteries look forward to building a strong and fruitful relationship with partners ACME Batteries over the coming years to become a true force throughout the New Zealand battery market.
Store Details
Address: 14 Dakota crescent, Wigram Christchurch 8024
Phone: 03 341 0090
Email: mgrsouth@rjbatt.co.nz
Trading hours:
Monday: 8:00am – 5:00pm
Tuesday: 8:00am – 5:00pm
Wednesday: 8:00am – 5:00pm
Thursday: 8:00am – 5:00pm
Friday: 8:00am – 5:00pm
Saturday: Closed
Sunday: Closed