Industry News
Silkolene XP Technology
Silkolene – Superior Motorcycle Oil
OVERVIEW
For over 80 years Fuchs Silkolene has been a world-leading lubricants brand specialising in motorcycle engine oils. The Silkolene name is synonymous with both racing and competition success, used by professional championship-winning racing teams worldwide including MotoGP, Motocross, Karting and World Superbikes.
Fuchs Silkolene is the most comprehensive range of engines oils, 100% dedicated to motorcycles. Developed on the race track, Silkolene has been rigorously tried and tested against competing products to ensure ultimate, high-quality performance and protection.
A global market leader, Fuchs Silkolene is sold in more than 50 countries worldwide. Their success can be attributed to having 30 years of research and development experience which led to the introduction of the new market-leading XP technology.
The development of XP Technology has introduced many additional benefits to the range including, increased power, protection and performance, reduced oil consumption and improved fuel consumption.
Since our inception more than 20 years ago, R&J Batteries have been at the very forefront of battery technology and innovation. We have been proudly stocking the Fuchs brand for 18 years and are Australia's largest distributor of Fuchs Lubricants, with an unrivalled personalised focus on our customer base.
Fuchs Silkolene was a welcomed addition to our already comprehensive range of oils and lubricants.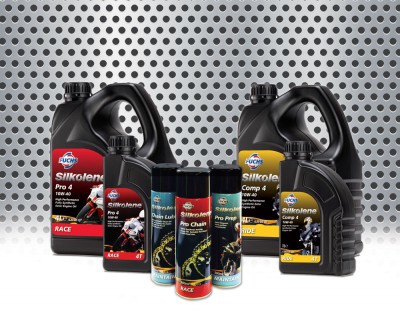 APPLICATIONS
Standard Bikes
Naked Bikes
Roadsters
Sports Bikes
Touring Bikes
Sports Touring
Adventure Touring
Cruisers
Adventure Bikes
Dual Sports
Off Road Bikes
Motocross
Enduro Bikes
Trail Bikes
Quad Bikes
Scooters
Power Scooters
FEATURES & BENEFITS
11% Improved Fuel Savings
18% Lower Oil Consumption
3% Improved Power (BHP/Torque)
Increased Power
Proven Reduced Engine Wear
Increased Performance
Combats Engine Wear
Reduced Friction
Increased API Specs
Increased Protection
TECHNICAL SPECIFICATIONS
| RED | GOLD | SILVER |
| --- | --- | --- |
| PRO | COMP | SUPER |
| Fully Synthetic | Synthetic Ester Based | Semi Synthetic |
| XP Technology | XP Technology | High Performance |
| Extreme Performance | Extreme Performance | Premium Product |
| Racing applications | Competition Applications | 4T and 2T |
| 2 Stroke | 2 Stroke | 2 Stroke |
| 4 Stroke | 4 Stroke | 4 Stroke |