Industry News
The all new TITAN CARGO 10W-30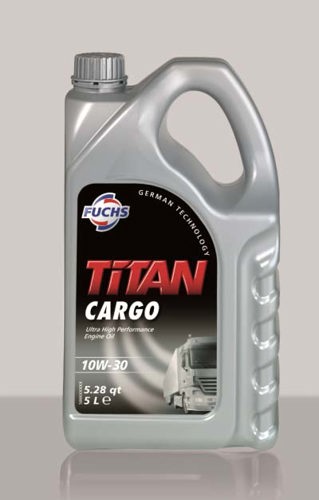 Why Commercial Diesel Vehicle Operators Should Consider TITAN CARGO SAE 10W-30
FUCHS Lubricants, a leading German lubricant manufacturer is proud to present TITAN CARGO 10W-30 heavy-duty diesel engine oil.
TITAN CARGO 10W-30 combines state of the art additive technology with a highly oxidative stable base-oil to offer the highest levels of performance for commercial diesel vehicle engines.
Some people may make an incorrect assumption that lighter viscosity oils could be too thin in their application.
TITAN CARGO SAE 10W-30 has a similar specification, approval and recommendation profile to TITAN CARGO SAE 15W-40
"This product is almost a mirror of our successful TITAN CARGO SAE 15W-40 in an SAE 10W-30 grade." said Tony Swiatek, Automotive Product Manager at FUCHS Lubricants (Australasia).
A major reason you would use TITAN CARGO SAE 10W-30 is that it has a huge fuel-saving potential. Commercial vehicle fleets could be saving a significant amount by switching to TITAN CARGO SAE 10W-30.
Other benefits of using this product include the highest neutralisation potential (TBN) in its class, offering long-lasting protection against aggressive acids and corrosion during the whole oil drain interval.
It has excellent wear protection, even under a constant full load as a result of the new additive and base oil technology. Low sulphated ash levels and very low phosphorous and sulphur levels protect the exhaust gas after treatment systems.
Whilst achieving many OEM approvals including MACK EO-O PREMIUM PLUS, MAN M 3575, MB 228.31, RLD -3, VDS -4, further recommendations for ALLISON C-4, MTU DDC Type 2.1, CES 20081 and DQC 111 are listed as well as ACEA E9, API CJ-4 and CAT ECF-3 specifications.
It's an easy equation. TITAN CARGO SAE 10W-30 +Fuel reduction potential = Reduced costs!
For more information contact R & J Batteries 1300 769 282