R&J Batteries News
Your Guide to the REDMAX Accessories Range
Since launching the REDMAX range of accessories earlier this year, the range has grown to include a diverse number of power accessories to support several applications. The Product team at R&J Batteries has carefully selected each product in the range to deliver reliable battery and power accessories for customers. The range currently consists of the REDMAX Multi Application Tool REDMAX Solar Power Bank, REDMAX Multimeter, REDMAX Battery Terminal Brush and a range of REDMAX Monocrystalline Solar Panels.. Here's your guide complete with useful information about each product in the range to determine how you could benefit from having a REDMAX product in your life.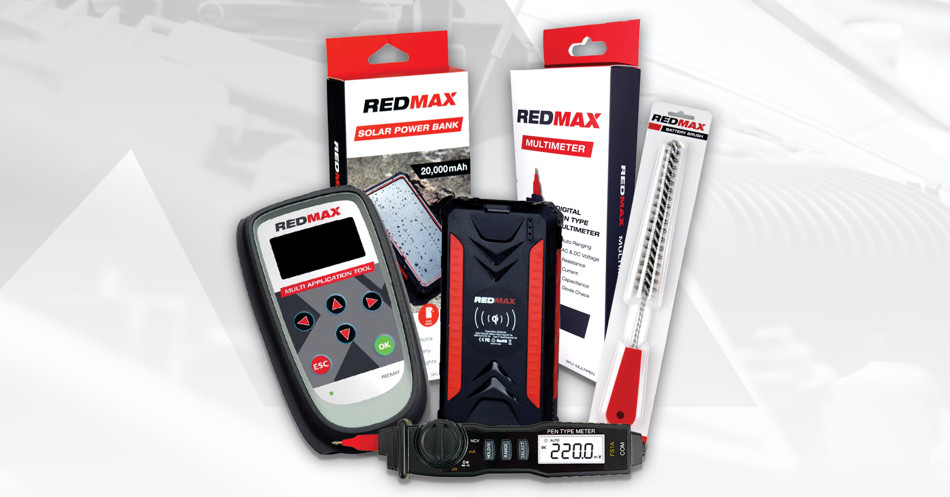 REDMAX Multi Application Tool (REDMAT)
The REDMAX Multi Application Tool , is a portable, hand-held solution for vehicle diagnostics and battery registrations. It enables users to easily tell the Battery Management System (BMS) when a new battery is installed within most applicable vehicles on the market. It prompts the BMS to clear all learned values of the old battery and establish a baseline of fresh data with the new one. Failing to complete the registration process in vehicles that require this can shorten battery service life and may affect the operation of vehicle. The Multi Application Tool can also display the current battery details stored in a vehicle's BMS to help monitor performance and detect any faults. The REDMAX Multi Application Tool also has several other useful features including:
Diesel Particulate Filter (DPF) regeneration
Electronic Park Brake apply & release
Service light reset
Read and erase Diagnostic Trouble Codes (DTC's)
Display live vehicle data
Fault code identification
Reset EOLYS additive lights
REDMAX Solar Power Bank
The REDMAX Solar Power Bank is specifically designed to power outdoor adventures. The REDMAX Solar Power Bank is suitable for camping, hiking, exploring and biking. Product features include an in-built solar panel for charging the device when USB power is not available, a multi-functional LED flashlight with 3 lighting modes and multiple power outputs to charge up to three devices simultaneously. The REDMAX Solar Power Bank has a large 20,000mAh lithium battery which enables it to charge a mobile phone or other mobile devices multiple times before requiring a recharge and is also capable of wirelessly charging Qi compatible devices. The power bank's integrated short circuit protection, over-discharge and over-charge protection features make it one of the safest power banks in the market.
REDMAX Multimeter
The REDMAX Multimeter leaves the guesswork out by accurately measuring electrical values in batteries, components and circuits. This compact digital pen type multimeter can measure voltage, current, capacitance, resistance and more. The pen type design makes it easier to use compared to conventional designs as the Multimeter is integrated into one of the test probes.
REDMAX Battery Terminal Brush
All batteries rely on a low resistance connection between the posts and terminals to ensure they can deliver maximum current to the devices they are powering. It is surprising how often battery performance issues are caused by a poor quality connection at the post.  The REDMAX Battery Terminal Brush has been specifically designed to thoroughly clean the inside surface of tapered battery terminals (both standard & small post) to ensure a high quality connection every time the battery is changed. This terminal brush is manufactured to R&J Batteries' specifications using stainless steel wire to resist corrosion. The taper of the brush matches the standard taper used in battery terminals to ensure full contact and efficient cleaning every time. The large handle makes the battery brush easy to hold and use.
More products will soon be added to the REDMAX range such as the REDMAX Solar Panels and REDMAX Power Hub. These products will be available at R&J Batteries branches from February 2022 onwards. More information on these products will be released soon.
Battery maintenance is made easy with the REDMAX range of accessories exclusively available at all R&J Batteries branches across Australia, New Zealand and selected distributors. Get in touch with the battery experts today on 1300 769 282.