DIVERSITY, QUALITY AND LONG LIFE
The Predator AGM range is a high quality, long life range of sealed Valve Regulated Lead Acid batteries (VRLA). Valve-regulated means they are fully sealed with no chance of electrolyte loss from the casing or terminals. They stay clean, safe and corrosion-free.
The Predator AGM range has the added safety of a pressure relief valve in the rare event of inner pressure build up.
Having Absorbent Glass Mat (AGM) separators, the Predator AGM range has lower internal resistance for greater efficiency and increased vibration protection, all encased in a high strength, durable ABS plastic case.
The Predator AGM range features 2 diverse types of AGM battery: the general-purpose & standby ES range, and the dedicated deep-cycle ED range.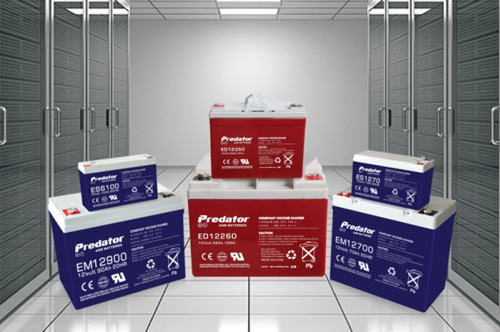 FULLY SEALED CONSTRUCTION
No electrolyte leakage from casing or terminals. Stays clean, corrosion-free
MAINTENANCE-FREE OPERATION
No need to check or add water. Efficient operation in any orientation except inverted.
LOW SELF-DISCHARGE
Self-discharge rate is less than 1% per month @ 20˚C
SPECIAL LEAD-CALCIUM ALLOY
Highly resistant to corrosion. Excellent deep-cycle recovery to full capacity
HIGH-STRENGTH ABS CASING
Designed to withstand elevated operating temperatures and maintain high battery cell compression essential for reliable operation in AGM batteries