The Master Distributor of Lester Electrical
in Australia and New Zealand
World Leading Industrial Battery Chargers and Discharge Testers 
Designed in the USA, Lester Electrical is the world leader in industrial and commercial battery chargers, specialising in electrical power conversions and storage for most applications and markets. With a variety of battery chargers and other electrical power concession and monitoring products to meet the varied needs of our customers.
Since 1963 Lester Electrical have been celebrated for leading the way in the commercial/ industrial battery charger and electrical power conversion and storage industry through innovation, quality and reliability. R&J Batteries have been the official and sole full range importer of Lester Electrical chargers in Australia and New Zealand since early 2018.  
Lester's commitment to engineering and manufacturing excellence, expertise and flexibly has seen them become the OEM and ODM supplier to industry leading companies in all major electric vehicle/machine markets and the industries highset-volume manufacturer. With their Quality Management System having ISO 9001 certification.
Lester products have built a tradition of unrivalled quality, reliability and longevity even in the most demanding applications and environments. This unravelled commitment is why we are proudly the exclusive, master distributor of Lester Electrical chargers and dischargers in Australia and New Zealand.
Summit Series ® II Charger Family
Lester Electrical's Summit Series ® II is a family of chargers that include the most comprehensive set of features and performance qualities that Lester have delivered in their fifty plus year history. The chargers are ideal for use in any motive power application including golf cars, aerial work platforms, floor care machines, industrial vehicles, lift trucks and outdoor power equipment.
The Lester charger family includes a comprehensive set of features with the latest technology and best quality performance that make Lester chargers a class above the competition.
Bluetooth Communication
Featuring Bluetooth wireless communication with apps for Apple® and Android™ devices. You can view charge cycle status, select the active battery profile, upload new profiles, change between on-board and off-board and download charge history records anytime using just a smart phone or tablet.
Cloud Connectivity

Push charge histories to the cloud to access data anywhere any time. Enjoy expert technical support as Lester Electrical staff can quickly see historical charging records. Add new charging profiles to your charger by pulling from the cloud and pushing to your charger.
Performance
Summit Series ® II provides industry-leading charging performance and intelligence. Their proprietary Progressive DV /DT ™ charge algorithm ensures a precisely charged battery every time. The chargers are built to last, tested in extreme temperatures and operating conditions.
Expertise

Lester has been designing and manufacturing industrial battery chargers for more than fifty years. They are an employee owned company, with every member of the team invested in the quality delivered to customers.
Efficiency

Switch mode (high frequency) chargers have best-in-class efficiency and are compliant with the newest CEC and DOE standards. Lester's laboratory in their Lincoln NE manufacturing plant is CEC approved.
Flexibility

Universal AC input and external DC and signal connections allow for easy customization and worldwide use. Lester Electricals' 650W, 1050W and 1425W chargers offer multi-voltage support. The 650W comes in two models, a 24V and 36/48V. The 1050W comes in one model providing 24/36/48V all in one. The 1425W provides 24V/36V in one unit.
Extended Warranty

Like all products launched by Lester Electrical, Summit Series II chargers are built with industry leading durability and reliability. Lester proudly stand behind their newest line, with every unit shipped including a 48-month limited warranty.
Lester Electrical Battery Discharge Testers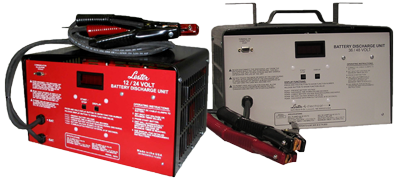 Designed by expert Engineers, Lester Electrical's Discharge testers help optimise daily battery capacity and overall battery life. Two discharger models are available including a 12/24V and 36/48V.
Optimisation
Lester Electrical battery dischargers can be used to determine battery capacities and to help identify defective batteries or cells in battery sets. Knowing the condition of a battery allows you to better maintain it and make necessary repairs.
User Experience
The Battery Discharger/Tester has been expertly designed by Lester Electricals' Engineers to ensure an easy operating experience for any user. Simply connect two alligator clamps to the battery or battery set and press the start button.
Expertise
Lester Electrical has been designing and manufacturing electrical power conversion and monitoring products for more than fifty years. The battery discharger product line continues the tradition of proven Lester reliability.
Durability
The Lester Electrical Battery Discharger/Tester features a powder-coated steel case, large 500-amp alligator clamps and heavy-duty 8-foot DC cables.
Flexibility
Lester Electrical battery dischargers are completely DC powered from the connected battery set. No AC power is required, making these units both fully portable and ready for worldwide use.
American Made
The Lester Electrical Battery Discharger/Tester is proudly manufactured in the U.S.A. at their plant in Lincoln, Nebraska.
Lester Electrical Applications
Lester Electrical has a variety of battery chargers to meeting the different needs of the today's vehicles and markets. The quality class leading range is specifically designed and manufactured for a range of motive power applications.